Home
>>
Lifestyle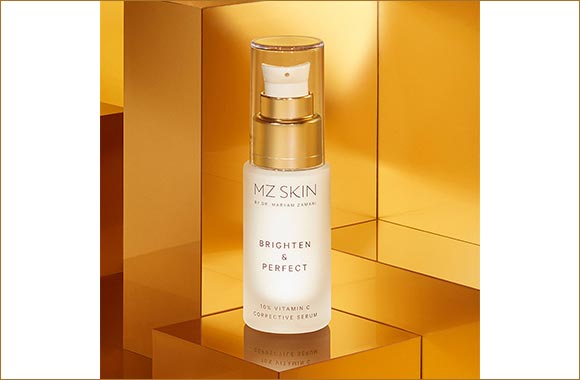 Introducing MZ Skin by Dr. Maryam Zamani
**An exquisite skincare capsule collection that will help reveal, enhance and protect your skin**
United Arab Emirates, October 04, 2020: If you've always lusted after healthy, glowing and youthful skin, then you'll be thrilled to know that award-winning skincare brand MZ Skin has finally made its way to the region. Created by facial aesthetic doctor and surgeon Maryam Zamani, the brand is inspired by all the women that Maryam has met and treated throughout her journey, and the genuine need for high performance skincare products rooted in medical science coupled with women's desires and a beautiful sensory experience.
The products are formulated with pioneering anti-aging ingredients that are clinically proven to provide an easy to understand skincare method that delivers visible results. The outcome is an exquisite capsule collection that translates into a skincare regime that will endure to reveal, enhance and protect your skin.
Not to mention that MZ Skin products are free from harmful ingredients such as parabens, silicones, mineral oils, petrolatum, GM ingredients, SLS and phthalates.
Here are some of the hero products from MZ Skin:
Brighten and Perfect 10% Vitamin C Corrective Serum - AED 1,800
This fast-acting, ultra-targeted serum combines a potent complex of actives and an optimal dosage of 10% stabilised Vitamin C to address the visible effects of UV activated hyperpigmentation, age spots and to reduce skin tone imperfections. Works deeper to help protect elasticity, stimulate collagen synthesis and create a shield to protect against environmental aggressors resulting in a strengthened, refined and brightened skin tone. Use to restore a luminous complexion.
Rest and Revive Restorative Placenta & Stem Cell Night Serum – AED 1,550 This luxurious, results-driven night serum is clinically proven to dramatically decrease wrinkle depth and increase skin thickness over 30 days. It is packed with intensive gene re-activating ingredients to repair, restructure and illuminate the complexion, reducing sagging and minimising the appearance of pores. Placenta Extract, combined with cell-renewal and rejuvenating actives, re-awaken the skin and repair age related damage by boosting production of skin strengthening collagen and elastin to deliver firmer, brighter, more youthful looking skin overnight.

Hydra-Bright Golden Eye Treatment Mask (5 Masks) – AED 495 Formulated with concentrated anti-ageing actives to instantly hydrate, improve elasticity and firmness and rejuvenate the eye area, these bio-collagen individual eye masks provide immediate results to brighten skin tone. They instantly improve the appearance of dark circles and diminish the appearance of puffiness, fine lines and wrinkles, whilst helping to strengthen elasticity and firmness and effectively relieving chronic fatigue.
Hydra-Lift Golden Facial Treatment Mask (5 Masks) – AED 595 Transform dull, lacklustre skin with this luxurious face mask. Saturated in gold nano particles, Niacinamide, Vitamin C and Collagen to plump and firm the skin. Brightens and restores radiance, hydrates and smoothes fine lines and wrinkles for a rejuvenated complexion.

Light Therapy Gold Facial Device – AED 2,750 Taking at-home devices to the next level of luxe, MZ SKIN introduces its innovative new glowing skin, game-changer, Light-Therapy Golden Facial LED Device. It is an LED (light emitting diode) mask designed for at-home use, promoting optimised skin transformation. The mask delivers a multicoloured series of light therapy to the dermis to promote total skin rejuvenation. Light therapy can help solve a plethora of skin woes from calming inflammation to diminishing breakouts and reducing hyper-pigmentation; this is the new generation mask designed for total skin supremacy.
Home
>>
Lifestyle Section