Home
>>
Entertainment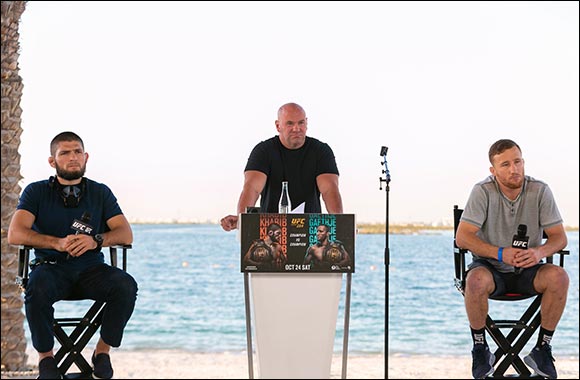 The Eagle and The Highlight Face Off on Yas Beach Ahead of UFC 254 Showdown
Champion vs Champion fight at Flash Forum on October 24 will be a fitting finale to mega Return to Fight Island series
Khabib: 'Right now is a special time for me fighting here in Abu Dhabi'
Gaethje: 'To be here fighting in Abu Dhabi means the world to me'

United Arab Emirates, October 22, 2020: Khabib 'The Eagle' Nurmagomedov and Justin 'The Highlight' Gaethje traded respect instead of insults during their pre-fight face-off at Yas Beach ahead of what is shaping up to be "the biggest fight we've ever done", according to UFC President Dana White.
Saturday's UFC 254 main event will see crowd favourite Khabib return to the Octagon for the first time since his win over Dustin Poirier at UFC 242 in Abu Dhabi in September 2019. The Russian will put his undisputed record and lightweight title on the line against the division's interim champion American Gaethje at Flash Forum, Yas Island.
Face-offs can often end in trash talking, but there was none of that on Yas Beach on Thursday as both fighters were quick to praise their opponent, and Fight Island.
"Khabib is one of the biggest stars in sport, not just UFC. If Khabib wins on Saturday, he will be the best pound for pound fighter and will be on his way to GOAT status. These fights come together once in a while; these guys don't have to scream at each other to make it big. People know who these guys and what they can do, which is why this fight is so big," said White.
"Coming into today, this fight was tracking to be the biggest thing we've ever done in UFC."
Khabib, who puts his 28-0 record on the line against Gaethje, said: "It is always difficult when there is so much pressure on you. Right now, with the pandemic, no fans etc, it is a special time for me to be fighting here in Abu Dhabi. To beat someone like Justin will be big for my legacy. He's dangerous in the first round."
However, while showing his opponent respect, Khabib promised Gaethje would be in a for tough night on Saturday.
"There is a world of difference between Dagetan wrestling and American wrestling. He can wrestle, but can he wrestle for 25 minutes? I can go all night," added the Russian favourite.
Gatheje responded: "He's confident in what he does. But I always show up under the lights, I've been doing it for as long as he has. I will bring everything, leave everything. I'm here to get better. I can't wait to surprise myself."
"He hasn't faced anyone who can wrestle for as long as he has, but that's me. I can't allow him to put me on the fence. If he wants to grapple, we grapple in the middle."
When asked about travelling halfway around the world to appear at Fight Island with his family by his side, interim lightweight champion Gatheje, said: "I'm a small town in Arizona. Look at this place, look how beautiful it is, I've never been to a place like this before. To be here fighting in Abu Dhabi means the world to me. My parents had never flown international before, they flew business class coming here.
"My dad worked for 37 years, my mum has worked 35 years. Any money they had went into me, my brother and sister. Nothing is better for me than to repay them. I'm very happy that they get to experience this."
UFC boss White concluded the face off by summing up Return to Fight Island, adding: "This is one of the coolest things we've ever done. This has been incredible. If he have to be locked up in a bubble, this is the best bubble to be in. This is hospitality on a different level. There's people been here much longer than we have to get everything ready for us, and I can't thank them all enough."
Home
>>
Entertainment Section