Home
>>
Healthcare & Medicine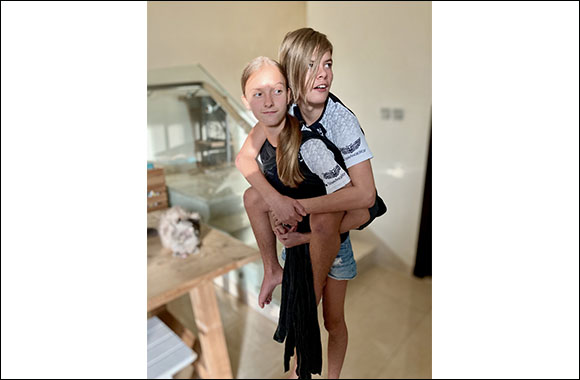 Sister to Climb Sydney Opera House With Rio Strapped on Her Back for Inclusive Impactivity
United Arab Emirates, September 23, 2020: Sister, Tia Watson (13) is set to climb virtually Sydney Opera House while carrying her brother, Rio a person with determination, on her back Team AngelWolf are set to take a next step in the Climb With Rio challenge this month! After virtually travelling around the world, climbing the equivalent size of the most famous landmarks from three continents as part of their #ClimbWithRio WORLD TOUR, It is now time
for sister Tia (13 years old, 42kg) to climb a landmark in Australia together with her brother Rio (17 years old, 45kg). The Dubai based super duo will climb up and down the stairs of their home a staggering 9.25 times, the equivalent of the Sydney Opera House.
#ClimbWithRio was initiated during the start of the lockdown in April to inspire a kinder and healthier community. The community is a hugely important aspect for the Watson family and hopes to motivate as many people as possible.
Tia and Rio have a very special relationship, she is an important person in his life. Last month she invented the #RunWithTiaAndRio challenge where she ran three kilometres a day for 31days consecutively, pushing Rio in his chair (60kg). She added some extra runs in the month to complete the hundred kilometres. Rio has loved every moment of this challenge, doing it with togetherness with his sister and he is extremely excited to climb the next landmark with his sister.
Tia Watson says: ''In my world I am his sister, his translator, his teacher and his helper; sometimes I have to make sacrifices and have a little more patience but most importantly I am his best friend. I am the voice of a sister of a brother with disabilities. My goal is to encourage our community to be active and inclusive by showing the rest of the universe how I live with the most amazing brother in the world!''
Anybody of any age and ability can join the #ClimbWithRio challenge and inspire the rest of the world. There are different fun ways community can join in the challenge; be it individuals, families, virtual corporate relays, wheelchair users, a PE home project and corporates as a virtual challenge at home.
Tia and Rio plan to do this challenge this weekend 26th September at 18:00 (Dubai time); People can set their own goal and either join them at the same time live or complete it at their convenience over the weekend.
Home
>>
Healthcare & Medicine Section