Home
>>
Home, Furniture and Interiors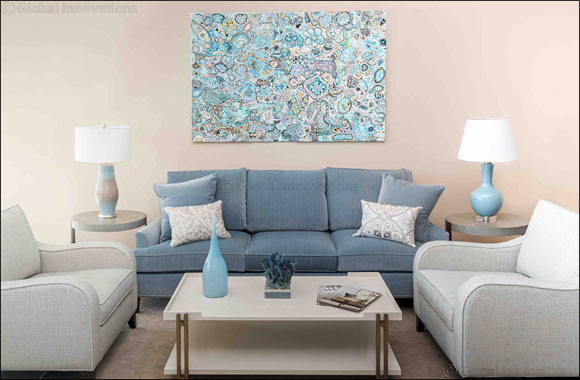 Ethan Allen Collaborates With Mawaheb From Beautiful People
Dubai, UAE - November 21, 2019: Renowned American furniture brand, Ethan Allen, has collaborated with Dubai based art studio Mawaheb from Beautiful People to create an exclusive painting which will be available for purchase, with 100% of the proceeds going towards supporting Mawaheb's contribution to society.
The idea of the collaboration was conceived by Ethan Allen to give back to the community and feature the artwork from the studio's inspiring artists of determination in the Ethan Allen flagship showroom located on Sheikh Zayed Road, Dubai.

The creative process for the collaboration painting began with an inspired color palette from the Relaxed Modern collection by Ethan Allen, which embodies passion for elegance, comfort and tranquility. The collection comes in light serene colors of blue and soft sand palette, creating a look that's refreshing and relaxed. The whimsical and colorful design was created by the talented artists who brought their own unique vision to the process with the inspiration being the Relaxed Modern collection.
"We are very proud of the collaboration with Mawaheb and to give back to the community by encouraging each individual to reach their highest potential and aid in their development. This initiative clicked very naturally for us and our values as we strive to explore ways of supporting like-minded individuals who are passionate about the community. As a part of the Alabbar family, we are honored to have taken part in a caring cause like Mawaheb, where the entire journey for myself and the team was a dearly heart-touching endeavor," says Tyrone Reid, CEO of Alabbar Enterprises.

The artwork that was created by over 20 artists from Mawaheb over a span of a few weeks is available at the Ethan Allen showroom for purchase for AED 8,400 until December 31st along with several other artworks created by the creative students. 100% of the proceeds will go towards supporting operations at Mahaweb's art studio. To commemorate the collaboration, Ethan Allen hosted a memorable press breakfast in the store where key media and influencers were invited to spend a morning meeting and painting with the artists and be part of the collaboration and experience Mawaheb firsthand.

Meaning 'talent' in Arabic, Mawaheb is an art studio for the determined ones with age of 16 years and above. The studio is located in the culturally rich Al Fahidi Historical Neighbourhood (previously known as Al Bastakiya). Mawaheb provides an opportunity to develop life skills through art, while demonstrating that everyone can be creative in their own unique way.
Home
>>
Home, Furniture and Interiors Section