Home
>>
Home, Furniture and Interiors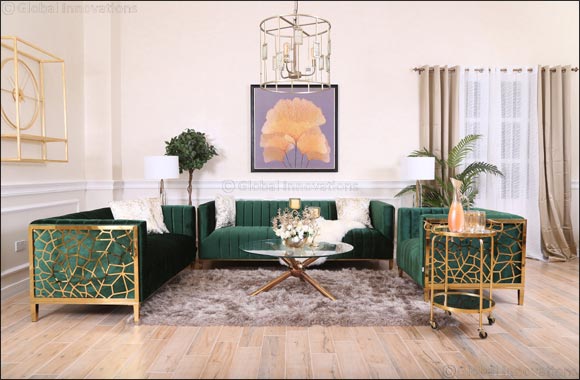 Holidays are more special with PAN Emirates
• PAN Emirates launches holiday collection with 30 – 70 per cent discount
• PAN Emirates Home Furnishings showrooms in Dubai, Sharjah, Abu Dhabi, Al Ain, and Fujairah in the UAE.
Dubai, United Arab Emirates – November 19, 2019: The season is changing, and with the advent of winter, comes the start of the festive season. At Pan Emirates, we are your partners, helping you bring joy and cheer into your home. We've got the right products in the right colours to ensure you feel happy and festive every time you walk into your home.
Deck the halls with merriment in red and green. Add a touch of glamour and class with aspects of gold sprinkled around. Match your mood with festive ambient lighting, and spread the joy with cushions and accessories that brighten up the room.
At Pan Emirates, you can find furniture in the festive shades, creating the right atmosphere for you. Add in the perfectly matching accessories that complete the look and feel for the season. This is the place where your family and friends will get together and celebrate. This is the place where you will create memories that will last you a lifetime.
It is evident from its recent plans that PAN Emirates is heading towards progression; thanks to the ambitious growth strategies and innovative initiatives from the stakeholders, operational development and marketing, who are dedicating their efforts to drive the brand forward and ensure it secures a special place in the hearts of old and new customers. Shop for the best in trendy interiors, home décor, lighting and patio-furniture at PAN Emirates stores or on the PAN Emirates' website www.panemirates.com
The store features diverse collections, including Traditional, Classic, Rustic, Country, and Victorian themes that are chosen to suit the needs and taste of their customers. PAN Emirates imports their products from countries like Turkey, Egypt, USA, Vietnam, Taiwan, Malaysia, China, Italy, Germany, and India, bringing the best quality from around the world to the region.
Shop for the best in interiors, home décor, lighting and patio-furniture at PAN Emirates Home Furnishings stores or on the PAN Emirates Home Furnishings app, available on iOS and Android. Head down to any of our stores now or shop online at: https://www.panemirates.comrance
Let Pan Emirates help you make that place as perfect as can be. Visit us today.
Home
>>
Home, Furniture and Interiors Section