Home
>>
Lifestyle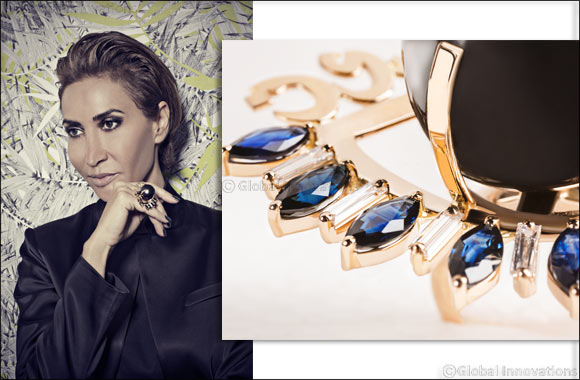 Robert Wan collaborates with Nadine Kanso of Bil Arabi
Robert Wan unveils Ya Noor El Ain - A unique collaboration with Nadine Kanso
Robert Wan is proud to announce their latest collaboration, with award-winning regional artist and designer Nadine Kanso of Bil Arabi.
Ya Noor El Ain, a one of a kind stunning ring, designed and created by Nadine exclusively for the brand, will be unveiled at the Doha Watches and Jewellery Exhibition in February.
More than a piece of fine jewellery, Ya Noor El Ain is a magnificent work of art and a fitting homage by both brands to the region. The signature Bil Arabi Arabic letters are scattered to spell Ya Noor El Ain, which translates to 'Light of the Eye'. Designed to leave you completely mesmerized, not only at it's sheer beauty but also at what is at it's heart; an exceptional 22 mm rare Tahitian black pearl from Robert Wan private's museum, symbolizing the pupil of an eye, where light enters and is then regulated by the iris.
Feminine 18-carat rose gold, enhanced by the smoothness of a captivating rare black Tahitian pearl and encircled by dazzling blue sapphires and diamond baguettes, Ya Noor El Ain portrays a romantic and exotic message and merges the timelessness and history of pearls with the poetry and grace of the Middle East.
"It is always inspiring and self-challenging when one collaborates with an international brand, coming up with something truly exclusive that also resonates closely with my signature design ethos. Using pearls for Ya Noor El Ain was a beautiful voyage into a world, which I normally do not touch upon. It was a poignant journey of discovery for me personally as an artist," says Nadine Kanso.
Ya Noor El Ain marks a significant expression of Robert Wan's association with the Middle East, combined with the sophistication and limitless talent and craftsmanship of designer Nadine Kanso.
"At Robert Wan we are always looking for new talents, both international and regional, to work on exclusive pieces to add to our collections. Nadine Kanso was already a friend of the brand and we love what she has been creating for Bil Arabi in the last 10 years. She was a natural choice for this beautiful project, as we wanted to play with the two worlds, Arabic calligraphy that is the very signature of Bil Arabi, and pearl culture, which is the root history and world of Robert Wan Tahiti. The results are truly beautiful and we are excited at the prospect of future collaborations with Nadine," says Audrey Tcherkoff, CEO and Creative Director of Robert Wan.
Today, the Robert Wan collection includes rings, earrings, bracelets, pendants and cufflinks. They are proud to unveil their newest pieces to the public, including this one-off piece by Nadine Kanso, at Doha Watches and Jewellery Exhibition from February 22nd to February 27th.
Home
>>
Lifestyle Section