Home
>>
Home, Furniture and Interiors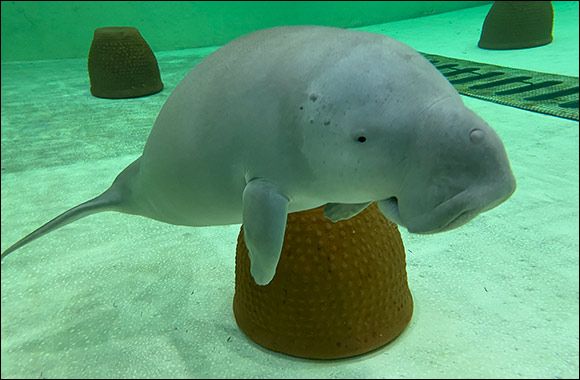 Malquot Transferred Safely to the Yas SeaWorld® Research & Rescue Centre
• Malquot was found abandoned in Marawah Marine Biosphere Reserve in poor health
• The dugong calf was successfully rescued and rehabilitated by EAD, the Worldwide Zoo Consultants (WZC) and the Conservation of Migratory Species of Wild Animals (CMS) Regional Office
• Malquot has now been successfully transferred to the Yas SeaWorld Research & Rescue Centre
Abu Dhabi, 26 September 2023: The Environment Agency – Abu Dhabi's (EAD) specialised marine species team, supported by experts from the Conservation of Migratory Species of Wild Animals (CMS) Regional Office and Worldwide Zoo Consultants (WZC), successfully rescued and rehabilitated a dugong calf named Malquot. Found abandoned in Marawah Marine Biosphere Reserve in poor health, he was transferred to a specialised facility and provided with 24-hour care until he was fully rehabilitated and healthy.
The Agency was able to successfully rear and rehabilitate Malquot with the support of key stakeholders, including veterinarians and animal care staff vets from Worldwide Zoo Consultants. After years of care by the dedicated team since his rescue in 2019, Malquot has now been successfully transferred to rescue facilities at the Yas SeaWorld Research & Rescue Centre – where he can continue his life under human supervision. This is because he lacks the natural survival instinct acquired in the early stages of a dugong's life, and life in secure facilities won't expose him to life-threatening risks.
As Malquot has been reared in a controlled environment, he has not developed normal immunity and has adapted to receiving specialist human care, which hinders his ability to interact with other species and avoid predators. According to information from an MoU by the Secretariat of the Conservation and Management of Dugongs and previous attempts made around the world, no dugong to date successfully rehabilitated in captivity has been released back into its natural environment. Therefore, EAD and its partners are working to continuously monitor the condition of Malquot to ensure that he receives the best possible care.
The Agency, through its team of experts, will be overseeing Malquot's progress at the Yas SeaWorld Research & Rescue Centre, and closely following up on health checks, behaviour and his overall acclimatisation to his new home at SeaWorld Yas Island, Abu Dhabi. SeaWorld Yas Island, Abu Dhabi will provide a dedicated team of animal care specialists that will attend to his every need and the EAD team of marine animal specialists will be on call to ensure he remains healthy.
Malquot was transported to Yas Island in Abu Dhabi in a specially outfitted Marine Wildlife Rescue Vehicle. This temperature-controlled unit was designed for moving any large or small marine animal in need of assistance. The vehicle allowed for veterinarians and animal care specialists to ride alongside Malquot the entire journey to monitor his vital statistics and mist his body with water.
Ahmed Al Hashmi, Executive Director of the Terrestrial and Marine Biodiversity Sector at EAD, said: "Ever since Malquot was rescued, and in collaboration with our partners, we have always ensured that he is well taken care of at all times. He has been assigned a dedicated team of scientists who have monitored his progress as he returned to good health. He will provide veterinarians, animal nutrition specialists, and animal care specialists the opportunity to better learn the needs and behaviours of such an enigmatic species."
He added: "As there have been very few successful dugong rehabilitations around the world, Malquot will give both resident and visiting scientists the opportunity to study how he interacts with his environment and how he develops as he grows and reaches maturity. The incredible work that has been done during Malqout's critical early rescue and rehabilitation period has set him up to settle in well at the Yas SeaWorld Research & Rescue Centre in Abu Dhabi."
Rob Yordi, General Curator at SeaWorld Abu Dhabi and the Yas SeaWorld Research & Rescue Centre, said: "Malquot's journey has been a testament to the dedication and collaborative efforts of all organizations involved in preserving the well-being of our indigenous marine life. We at the Yas SeaWorld Research & Rescue Centre and SeaWorld Yas Island, Abu Dhabi are immensely proud to provide a new home for Malquot. As he continues to thrive in his new surroundings, his presence will serve as a valuable source of scientific knowledge to enhance our understanding of this species. This understanding is pivotal for the continued conservation efforts of dugongs across our region."
He has grown from a newborn neonate of less than one month old to a five year-old male juvenile. Due to being rescued at such a young age Malqout would not be able to survive on his own out in the Arabian Gulf. The Yas SeaWorld Research & Rescue Centre and SeaWorld Yas Island, Abu Dhabi are the best equipped facilities for him given the space, the medical facilities, care and equipment available. He will also have caregivers and around-the-clock veterinary support, which makes the Centre the ideal facility to host him for the time being.
There are approximately 3,000 dugongs in the territorial waters of Abu Dhabi, mostly found near Bu Tinah Island, which forms part of the Marawah Biosphere Reserve and Al Yasat Marine Protected Area. The Arabian Gulf is home to the second-largest gathering of dugongs in the world, after Australia.
The largest dedicated marine research, rescue, rehabilitation and return centre in the region, the Yas SeaWorld Research & Rescue Centre serves as an integrated and advanced marine science knowledge hub and a key contributor to marine life conservation in the UAE and the wider region.
The Environment Agency – Abu Dhabi and Yas SeaWorld Research & Rescue are entrusted to help any marine animal in need or at risk. Members of the public are encouraged to call the Environment Agency – Abu Dhabi (EAD) via the Abu Dhabi Government Call Center 800 555 to report any animals who may be injured or in danger.
Home
>>
Home, Furniture and Interiors Section