Home
>>
Entertainment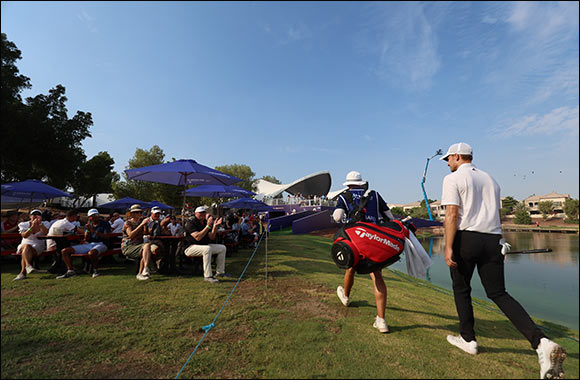 DP World Tour Championship Prepares to Celebrate 15 Years of Excellence
• 15th edition of the season-ending event will bring 50 of the world's top golf stars to Dubai
• Championship Village will see free golf lessons for all ages, Ladies Day celebrations, trick-shot shows and an incredible atmosphere amongst extensive food and beverage offerings

26 September 2023 – Dubai, UAE: The prestigious DP World Tour Championship, Dubai, returns for its 15th edition in just 50 days, promising an unparalleled blend of world-class golfing action, entertainment, and exciting experiences. Following record weekend crowds last year and a sold-out event, the championship will take place from 16 – 19 November at Jumeirah Golf Estates, and is shaping up to be an unmissable experience.

Dubbed as a world-class sporting and social event, the DP World Tour Championship is the grand finale of the prestigious Rolex Series. From 16 – 19 November, the Earth Course at Jumeirah Golf Estates will witness the world's top 50 players on the DP World Tour Race to Dubai Rankings battling for the coveted title of Race to Dubai champion.

Beyond world-class golf, the DP World Tour Championship Fan Village will offer an array of experiences for all including family-friendly activities, a special Ladies Day celebrating women's golf in style, and daily music performances from renowned local UAE based artists including Conleth McGeary, Lexie, Faux-asis and Garry Greig.
With a packed itinerary of captivating live performances on stage, circus workshops, enchanting princess appearances, engaging drumming workshops, and spellbinding magic shows, there is no shortage of family friendly entertainment. For those looking to improve their golf game, the 'Golf for All' program will offer attendees lessons on the driving range, along with an activity to put skills to the test through a 'long putt' challenge sponsored by DP World. With such a diverse range of activities and attractions, the DP World Tour Championship is poised to become an unforgettable event.

Tom Phillips, the DP World Tour's Head of Middle East, said: "We're thrilled to be celebrating the 15th edition of the DP World Tour Championship. This Rolex Series is not only a highlight on the global golfing calendar but has also firmly established itself on Dubai's vibrant social calendar. It's a testament to our commitment to delivering a world-class sporting and lifestyle experience that resonates with residents and visitors alike, and we can't wait to share this milestone with everyone."
The Championship Chalet, overlooking the 18th green, offers unrivalled views of the closing round for fans pursuing an exclusive premium experience. The Earth Lounge in addition serves as a relaxing scene for those looking to enjoy the action over the 16th green, whilst the Greatest Bar on Earth on the 17th makes for a perfect setting to have a beverage within reach of the course activities.

The DP World Tour Championship has also unveiled a number of sustainability initiatives in preparation for the upcoming event. The Earth Lounge on the 16th will be fully powered by solar panels and hydrogen generators, resulting in a remarkable 100% reduction in CO2 emissions; while Averda, the event's official waste management company, will recycle 75% of tournament waste. Plastic water bottles are no more with the continuation of a total ban on single-use plastic bottles, having been replaced with free water walls and to date having saved over 81,000 bottles, reinforcing the event's eco-conscious stance. The golf course has also omitted overseeding, which conserves an estimated 20 million litres of water, reflecting the championship's commitment to both top-tier golf and environmental responsibility and sustainability.

To secure free tickets for the 2023 DP World Tour Championship, Dubai and explore the various ticket options, including premium experiences, please visit www.dpwtc.com. Don't miss your chance to be part of this extraordinary event.
Home
>>
Entertainment Section