Home
>>
Real Estate & Retail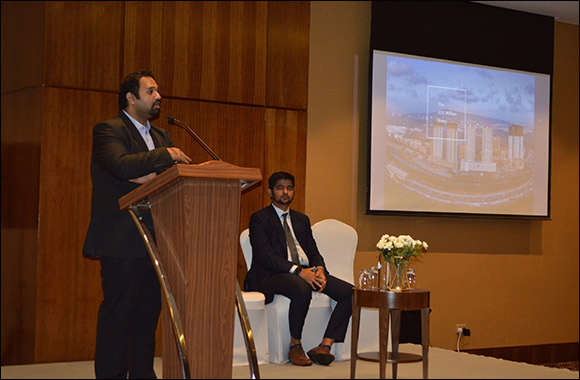 India's Kaizen AI Set to Change the US$1.36 Trillion GCC Real Estate Projects Market with AI and Deliver More Profits
With the use of innovation, cutting-edge technology and artificial intelligence, Kaizen AI is ready to increase profitability of the UAE's engineering, construction and real estate sector and reduce carbon emission
Date: Dubai, UAE, September 21, 2023
News Highlights:
1. Kaizen AI increases profit on average by 10.46 percent with average project delivers US$27 million increase in profits without changing design contours;
2. Kaizen AI has delivered tangible profit increase of US$3.86 billion in 108 projects;
3. Kaizen AI reduced construction area by 4.32 million square feet and reduced 562 million metric tonnes of carbon emission in 108 projects;
4. The UAEs built environment consists of 134,081,000 civil structures scattered across the country. Kaizen AI could change them with its innovative solutions;
Kaizen AI, a pioneering technology company revolutionising large-scale building projects with AI, has successfully optimised 108 projects across Asia including Dubai, providing almost US$4 billion increased profitability, is entering the lucrative GCC real estate market where planned and under-construction projects value stands at an estimated US$1.36 trillion.
Of the US$1.36 trillion, Saudi Arabia accounts for 64.5 percent of the total real estate project value or US$877 billion while the UAE accounts for 21.6 percent or US$293 billion in value.
Run by Columbia and UCLA Architecture graduates Jay Shah and Anuj Shah, Kaizen AI increases income from building projects through its Artificial Intelligence (AI)-powered proprietary technology, all while reducing environmental impact and without major design changes. What's even more remarkable is with the company's success fee-based model. It charges developers only based on tangible profitability increased.
Kaizen AI is a cutting-edge real estate value optimisation AI platform, proudly developed in India. Born from the pursuit of simplicity while achieving multiple objectives manually, it has evolved into an AI-driven solution that delivers remarkable increases in profitability while adhering to design constraints in record time. With a track record of generating near US$4 billion in tangible value for real estate developers worldwide, Kaizen AI is leading the way in redefining real estate excellence.
A 10 percent reduction in built environment or an increase of profitability to the tune of 40 percent would make the region's real estate a much more lucrative and more sustainable in the long run. It means less energy consumption, less pollution and more space for greenery.
Jay Shah, Founder of Kaizen AI, says, "We give the project developers the real-time optimisation and profit increase data that allows them to undertake informed decision. Kaizen's AI-powered technology is a game-changer for the real estate sector that helps developers increase profitability by as much as 40 percent in certain cases, when implemented at an early stage of the project development, where margins are shrinking due to materials price increase and inflation."
Built environment and real estate are traditional industries that needs technology-powered disruption. Kaizen AI's innovative solutions could offer more than 25 percent increase in profitability, while it has on an average delivered US27 million more profits per project and has reduced energy consumption by a significant amount, he said.
"As the UAE celebrates 2023 as the Year of Sustainability, it is important for all of us to try and contribute to it in our own way. Kaizen AI is making real estate more sustainable and we have decided to launch our solution as the UAE prepares to host COP28 later this year," he added.
"The application of artificial intelligence within the UAE's real estate market is quite new. The PropTech innovation is being integrated across a broad spectrum of use cases. These use cases range from providing enhanced property management experiences to aiding efficient property transaction and valuation procedures. As a team we will be glad to serve the GCC market as well," he added.
AI-powered real estate solutions enable data-driven decision-making for developers that helps in cost optimisation and increase in profits. A technology company, Kaizen AI also reduced construction area by 4.32 million square feet and reduced 562 million metric tonnes of carbon emission in these 108 projects. Once appointed to optimise the project, Kaizen AI scans the detailed engineering drawings and comes up with its results that are tangible savings in terms of cost savings and profitability.
The company has started consulting a number of real estate development companies in Dubai to help them increase profitability by making slight changes to the original designs within the approved variation limit, powered by AI.
"We have received very strong response from a number of property developers who were amazed with Kaizen AI's cutting-edge AI-powered technology and we expect to help them increase profits from their buildings with our solution – that will help them increase their bottom line and reduce carbon footprint," Jay Shah says.
The UAEs built environment consists of 134,081,000 civil structures scattered across the country. Kaizen AI could change them – both in terms of financial output and environmental impact – with its innovative solutions. Real estate developers in the UAE and other GCC countries can now increase profitability, optimise cost and reduce emission, by deploying innovative cutting-edge technology brought by Kaizen AI that offers greater value proposition.
Around six of the top 10 largest developers in India trust Kaizen AI with their projects as it delivers 10.46 percent increase in profitability on an average per project. Deployment of Kaizen AI could help developers benefit from an additional US$27 million in profits per project on an average.
Created by leadership with more than 100 years of combined real estate experience with international exposure, Kaizen AI optimisation have been carried out on projects with the top architects of the world, backed by the architectural experience of more than 100 million square feet of design. It helps property developers with data-driven recommendations through artificial intelligence.
Kaizen AI, draws its name from the Japanese business strategy that espouses continuous improvement. It optimises large scale building projects using artificial intelligence to significantly increase profits while staying within design contour. While architecture design takes six months to develop and there remains gap, its proprietary technology solves this in two weeks and shows the developers of the scope of optimisation and profitability.
The rise of AI in Prop Tech is causing a paradigm shift in the real estate development industry, which has a history of slow adoption of new technologies. However, the rise of AI is transforming how properties are managed, buildings are built, and investments are made by providing more efficient and cost-effective solutions that promote sustainability while minimising environmental impact. Nearly 40 percent of worldwide carbon emissions are contributed by building + construction industry. Kaizen AI has reduced the environmental impact of by 15 percent by reducing operating carbon as well as embodied carbon emissions.
The UAE's dedicated strategy towards AI and its initiatives to support the development of technologies is a great example of it. Global accounting firm PriceWaterhouseCooper (PWC) estimates that the Middle East is expected to accrue 2 percent of the US$320 billion total global benefits of AI in 2030. In relative terms, the UAE is expected to see the largest impact of close to 14 percent of 2030 GDP.
The firm is in discussions with prominent North American players, including projects with Brookfield and Marriott.
According to the annual real estate tech survey, AI and Machine Learning technologies will have the biggest impact on the real estate sector. The real estate field, like many others, is transitioning to a "data-driven" world and we are already starting to see a wave of technology-driven Property Technology (PropTech) solutions changing the way companies interact with customers in the industry.
Kaizen AI is conducting its first roadshow in the UAE from 19th to 22nd September, 2023. They will be here to present their portfolio and answer queries of those interested. Kaizen AI recently got awarded with best start-up award by NAREDCO in 2023.
Jay Shah has received a prestigious invitation to speak at The South Florida Real Estate Forum in Miami on November 10. Jay will take the stage at trd.ai, a specialised conference dedicated to the transformative influence of AI in the international real estate industry. What makes this even more remarkable is that Jay is the sole Indian representative at this esteemed gathering.
Home
>>
Real Estate & Retail Section