Home
>>
Events & Exhibitions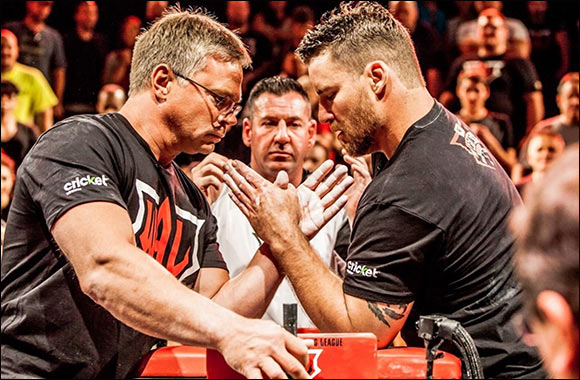 King of the Table 8" Arm-wrestling Legends John Brzenk and Alexey Voyevoda Collide for a Jaw-dropping Display of Unadulterated RAW Power and Muscle-bound Madness
-an unforgettable energy fueled evening with a line-up of muscle-bound titans -
15th September 2023, DUBAI, UAE - Get ready for a no-holds-barred, muscle-pumping, adrenaline-fueled spectacle that will leave you gasping for air! 'King of the Table 8' is back, and it's bigger, bolder, and RAW-er than ever before! This unmissable event is set to explode in Dubai, UAE, on September 23rd, delivering an unforgettable evening of untamed power, iron determination, and enough muscle to make the sand dunes jealous!
The highly anticipated event makes its triumphant return to The Space Sports, Dubai, UAE guaranteeing an evening filled with raw power, unwavering determination, and an atmosphere charged with electrifying energy as armwrestling titans from around the globe converge to vie for eternal glory.
Headlining this jaw-dropping spectacle is the long-awaited rematch between two living legends of the sport, John Brzenk and Alexey Voyevoda. But that's just the beginning! This ultimate showdown will feature an all-star lineup of muscle-bound warriors who will redefine the limits of strength and strategy.
The Main Event - The clash of titans you've been waiting for:
John Brzenk and Alexey Voyevoda will lock horns once again, creating a spectacle of strength and strategy that will leave fans breathless.
The Powerhouse Contenders: But the excitement doesn't stop there! Witness epic battles featuring the best of the best:
- Matt Mask
- Ron Bath
- Lachlan Adair
- Krasimir Kostadinov
- Chance Shaw
- Serhii Kalinichenko
These armwrestling phenoms will unleash their raw power and cunning tactics, creating a maelstrom of muscle on the armwrestling battlefield.
International Showdown: 'King of the Table' reaches new heights with a global matchup:
Maateiwarangi Heta-Morris (New Zealand) takes on Lars Rorbakken (Norway) in a cross-continental duel that will showcase the worldwide appeal of armwrestling supremacy.
This isn't just an event; it's an electrifying spectacle that showcases the epitome of human strength and spirit. Athletes who've dedicated their lives to mastering the art of armwrestling will lock arms, minds, and hearts in an epic battle that will leave spectators awe-inspired. 'King of the Table 8' promises much more than just brawn. It's about the relentless pursuit of victory, the indomitable human spirit, and the sheer determination to emerge as champions. Don't miss your chance to be part of this extraordinary event. Secure your tickets now, and be prepared to witness an unforgettable display of physical prowess and determination.
Event Details
King of the Table 8
Date: September 23rd 2023
Venue: The Space Sports, Dubai, UAE – DIP
Pay Per View link: https://linktr.ee/coresportsworld
Live tickets link: https://dubai.platinumlist.net/event-tickets/king-of-the-table
Home
>>
Events & Exhibitions Section