Home
>>
Events & Exhibitions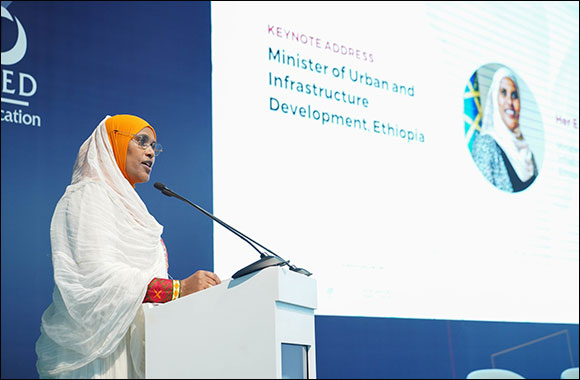 ESG in Focus at the Big 5 - Her Highness Sheikha Shamma Speaks at Inaugural Global Construction Impact Summit as Women in Construction Takes Centre Stage
• UAE among the countries most vulnerable to climate change and warming at twice the global average, attendees hear
• Just 10 per cent of construction industry workers are female, reveals Her Excellency Chaltu Sani, Ethiopia's Minister of Urban and Infrastructure Development
• UAE's first female aviation engineer, Dr Eng Suaad Al Shamsi provides stirring keynote address: 'If you can dream it, you can do it'
Dubai, UAE – December 8, 2022: Her Highness Sheikha Shamma bint Sultan bin Khalifa Al Nahyan, Executive Director at UAE Independent Climate Change Accelerators, provided the keynote speech at the inaugural Global Construction Impact Summit yesterday (December 7) at Dubai World Trade Centre, stressing that the UAE is ready to drive forward with its vision for a greener and cleaner future.
The Summit took place at the four-day Big 5, the largest and most influential building and construction event in the Middle East, Africa, and South Asia. Concluding today, this year's show features more than 2,000 exhibitors from across 60 countries.
Addressing an audience of disruptors, innovators, ESG advisors, and policymakers, Sheikha Shamma told attendees the UAE is among the countries most vulnerable to climate change and warming at twice the global average. As host of next year's COP28, the UAE is "steadfastly focused" on transforming the country into one powered by clean and renewable energy sources, together with technological advancements and climate-smart solutions, she added. And the building sector must be a key point of focus.
"The worldwide building and construction sector contributes to at least 39 per cent of global carbon emissions," she said. "It has been speculated that these emissions are much higher in the UAE due to cooling demands and the less-than-optimum energy performance of existing buildings. In light of this, adopting green building energy efficiency and renewable energy measures is at the forefront of climate change mitigation policies within the UAE.
"To further the UAE Government's commitment to sustainability and climate action, the UAE Independent Climate Change Accelerators has been set up. We work to ensure that all key stakeholders are engaged – locally, regionally, and globally. At UICCA, we are looking to provide policy recommendations backed by science and research and catalyze the green economy in the region."
Speaking about the Summit, she added: "I am excited by the potential that this platform has for creating a positive impact on the environment while facilitating sustainable solutions for tomorrow."
In addition to contributing to the critical success of COP28, UICCA will work with global companies looking to embark on their sustainability journey in the region, especially in the UAE. Through its role as an accelerator, UICCA will also support technology start-ups globally and locally in expanding their business footprint within the region. This is in line with UICCA's commitment to delivering UAE's Net Zero Strategy in 2050 by enhancing the contribution of sustainability-linked services, products, and jobs to UAE's GDP and positioning the nation as the 'Sustainable Innovation Capital' of the MENA region.
Home
>>
Events & Exhibitions Section