Home
>>
Travel & Tourism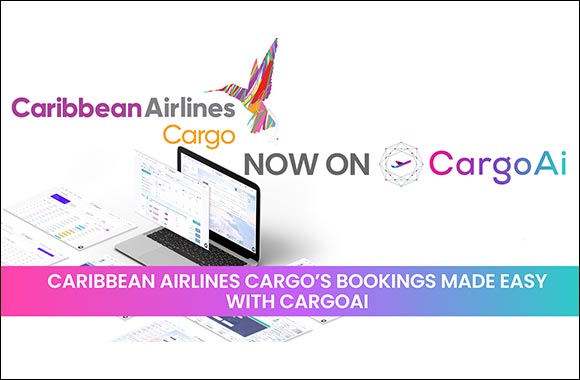 Caribbean Airlines Cargo is now live on CargoAi
August 22, 2022: Caribbean Airlines Cargo has partnered with the air cargo digital solution platform, CargoAi, and offers capacity to and from the Caribbean.
Freight forwarders worldwide can now access and use www.cargoai.co for eQuotes and eBookings for all destinations served by Caribbean Airlines Cargo worldwide, including, but not limited to, Trinidad, Jamaica, Guyana, and Barbados.
'CargoAi is delighted to announce that Caribbean Airlines Cargo successfully went live on the www.cargoai.co platform on 08 June 2022. Caribbean Airlines has placed a strong focus on improved customer service both on the passenger as well as on the cargo side, and user experience is what CargoAi excels in," explains Matthieu Petot, CEO of CargoAi.
'We see three major benefits in offering our capacity on CargoAi. First and foremost, our customers have access to a customized, easy-to-use e-booking system, allowing them to streamline their shipping processes more efficiently. Secondly, our capacity offers now reach a great many more potential and new customers around the world, and thirdly, these increased sales activities will ultimately boost our commercial cargo operations, enabling us to further enhance our service offers. A win-win all round,' says Marklan Moseley, General Manager, Cargo and New Business, Caribbean Airlines.
CargoAi users now have access to more connections between the Caribbean region and North America, fully in line with the current user growth that the platform is currently witnessing.
"The existing pre-integration between CargoAi and CHAMP's CargoSpot system was a strong accelerator when it came to connecting Caribbean Airlines Cargo to our marketplace and API Suite," Petot added. "The ability to integrate a company in an average of only three weeks, regardless of the size of its network, is one of CargoAi's major strengths. Our customers appreciate the fact that most of the work is done by our CargoAi teams, and therefore only a limited resource investment is required on the airline's side."
Airlines are recognizing that the benefits and advantages of eDistribution, already firmly established on the passenger side, also apply to cargo processes. CargoAi, a leading platform in this field, offers them simple and fast integration thanks to its proven tech and air freight expertise.
Home
>>
Travel & Tourism Section