Home
>>
Lifestyle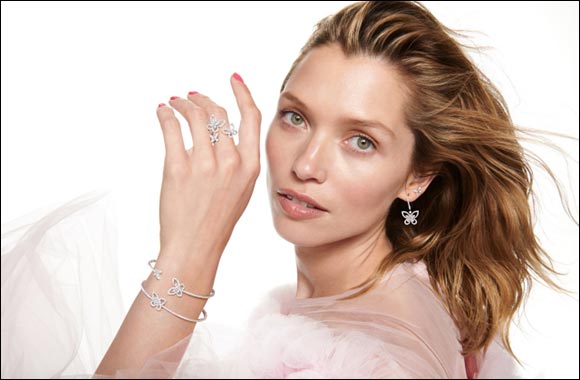 The Graff Butterfly Collection She Can Fly, She's a Butterfly
An eternal influence on the House of Graff, the Butterfly collection has expanded over the years to encompass a whole universe of jewels that convey the free-spirited beauty of one of nature's most captivating creatures.
Believed by many cultures to be the bearer of good fortune and a symbol of transformation and joy, in Graff's enchanting world, each diamond butterfly is a delicate snapshot in time.
From a kaleidoscope of butterflies performing a perfectly synchronised aerial dance to the shimmering iridescence of their wings as they flutter in the breeze, Graff captures their playful personalities with limitless femininity.
Graff's butterfly kingdom includes a captivating array of jewels and timepieces, brought to life in precious diamonds and gemstones, from playful everyday pieces to whimsical and charming high jewellery creations.
"With a joyful and carefree innocence, the Butterfly collection is infused with an uplifting energy that captures the whimsical charm of a butterfly as it flits elegantly through the air upon fluttering wings." - Anne-Eva Geffroy, Design Director.
Butterfly Silhouette
Mesmerising designs for every day, each jewel in the Butterfly Silhouette collection traces the outline of a butterfly with wings outstretched.

New designs include mini diamond studs (top) that are the perfect size for styling singly or together.

Pavé Butterfly
Vibrant clusters of pavé diamonds converge upon a magnificent marquise diamond in the Pavé Butterfly collection. Each stone has been individually hand set by Graff's master craftsmen to emulate the beautiful iridescence of a butterfly's wings.

Featuring either single or triple butterflies, captured for eternity in their hypnotic aerial dance, the collection encompasses bewitching rings, pendants, earrings and necklaces. Bringing a very precious brilliance to the collection, pavé yellow and pink diamonds have been set to appear as if butterflies have come to rest, for a brief moment, upon exquisitely feminine necklaces, earrings and rings.

Classic Butterfly
The perfect symmetry of a butterfly's wings is beautifully expressed in Graff's Classic Butterfly collection, with their alluring form elegantly depicted in pear shape and marquise diamonds

Diamonds are perfectly matched by Graff to mimic the absolute symmetry of a butterfly's wings in an alluring ring, earrings and bracelet
Designed to be styled
With their joyful, naturally charming personalities, Graff encourages setting its diamond butterflies free and styling them as you please. On the body, in the hair, along the ear – self-expression is celebrated with these precious diamond jewels

Butterfly watches
Graff's Butterfly universe also includes a range of feminine Classic Butterfly timepieces that honour the perfect, elegant form of a butterfly.
In 18 carat white gold, four high jewellery watches feature a multitude of diamond butterflies nestled amid diamond-set bezels, lugs and clasps. Each has a fully diamond, sapphire, emerald or ruby-set dial that can be glimpsed through the butterflies, with a pavé diamond crown to change the time and a cascade of butterflies engraved on the reverse of the case.
The Classic Butterfly timepiece is also newly available in stainless steel. Featuring a white or black mother-of-pearl face, six diamond butterflies dance around the miniature dial, complemented by a diamond crown and kaleidoscope of butterflies engraved on the case-back
Home
>>
Lifestyle Section