Home
>>
Events & Exhibitions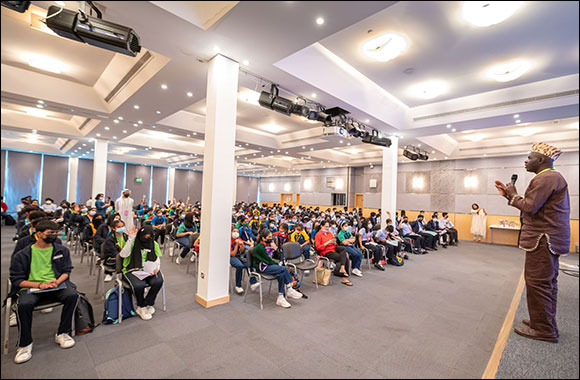 'Reading makes us Complete Humans'; Award-Winning Children's Author Christopher Okemwa tells SCRF's Young Visitors
The Kenyan writer, known for his book Sabina and the Mystery of the Ogre, addressed a packed Sharjah Children's Reading Festival audience of students

Sharjah, May 20, 2022: Award-winning Kenyan children's author Christopher Okemwa inspired young visitors to the 13th annual Sharjah Children's Reading Festival (SCRF) to read "more books and become wiser".
Addressing a packed audience of UAE's school students and teachers during an SCRF students session, the lecturer of poetry and drama at Kisii University, Kenya, regaled his young fans with excerpts from his stories.
"Books are the windows to the world," he said adding, "the more you read, the more you know about cultures from around the world; the different languages and histories. And if you understand other communities well, you get closer to being a complete human being", said Okemwa whose published works include poetry collections, oral literature, a short story collection, children's books, and folktales of the Abagusii.
However, what makes Okemwa a sought-after children's writer is his planned six-part series of stories on Sabina, a 10-year-old Kenyan village girl. "Sabina is my hero because she represents those girls in Kenya who come from unique sociocultural contexts that are very different from the mainstream culture and don't necessarily get to go to school. My stories hope to give a voice to all those little girls," said Okemwa as he recalled how his student and his book's protagonist, Sabina, often got bullied because "she came from a village with different customs and practices".
Okemwa who has so far published two books of the popular series Sabina, the Rain Girl and Sabina and the Mystery of the Ogre that even won the 2015 Burt Award for African Literature (Kenya).
"I always had stories to tell. I heard so many of them from my mother and my grandmother and even pupils like you when I taught in lower primary school. I had to capture them all in a book," said Okemwa when asked by a young fan about what inspired him to be author. "I grew up with my mother, without a father, in poverty. And often when you are left with no money, no food, all you have then with you is your power to express through your writing."
To the excitement of his young fans, the author revealed that he is currently developing a third story to add to his popular series, and has titled it Sabina and The Old Woman.
Home
>>
Events & Exhibitions Section