Home
>>
Events & Exhibitions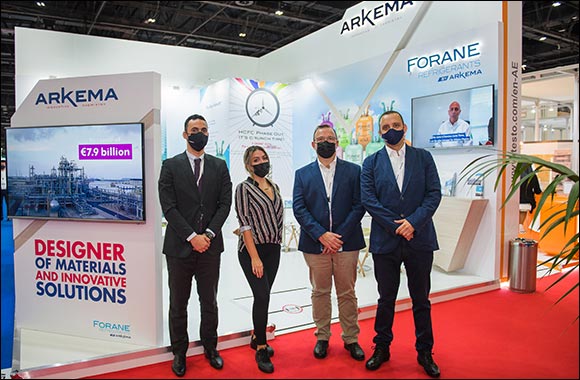 Arkema Under the Spotlight at The Big 5 2021
From September 12th to September 15th, Arkema participated in the BIG 5 exhibition in Dubai (UAE), the largest and most influential building and construction exhibition in the Middle East, Africa and South Asia. The BIG 5 covers the full construction cycle and brings the entire portfolio of building materials, construction products, and solutions together under one roof.
ARKEMA GROUP AT A GLANCE
Building on its unique set of expertise in materials science, Arkema offers a portfolio of first-class technologies to address ever-growing demand for new and sustainable materials. With the ambition to become in 2024, a pure player in Specialty Materials, the Group is structured into three complementary, resilient and highly innovative segments dedicated to Specialty Materials -Adhesive solutions, Advanced Materials and Coating Solutions- accounting for some 80% of Group sales, and a well-positioned and competitive Intermediates segment. Arkema offers cutting-edge technological solutions to meet the challenges of, inter alia, new energies, access to water, recycling, urbanization and mobility, and fosters a permanent dialogue with all its stakeholders. The Group reported sales of €7.9 billion in 2020, and operates in some 55 countries with 20,600 employees worldwide.
ARKEMA IN THE MIDDLE EAST
Over the last twenty years, Arkema in the Middle East has grown in size and importance, gradually establishing itself as a truly local and regional recognized French innovative Specialty Chemicals Company. With its Regional Headquarters, established in Dubai UAE, and its affiliates in the region, Arkema has been supplying the Oil & Gas, Petrochemicals and Construction markets in the region and has developed strong relationship with key customers.
ARKEMA AT BIG 5 2021
This year, as an exhibitor, Arkema presented two stands representing two of its Business Units:
• The Fluorochemicals business with its refrigerant gases (Forane® products range)
• Bostik with its wide range of products dedicated to the building & construction market.
According to Bertrand JAUSSEME, Managing Director, Arkema Middle East, "We are thrilled that the Arkema Group could take part in this great exhibition. Arkema has a long history in the Middle East, since its commencement in 2001. Creating a local presence goes to show our commitment to helping our partners and customers in the region lay the foundations for their future and achieve their vision of a thriving and diversified economy."
Arkema Fluorochemicals has been present in Africa and the Middle Eastern region for over a decade. In the countries where we operate, our brand Forane® is having a strong presence among our partners that appreciate the quality of our products and have trust in our brand image, which has been developed for many years now.
Our products are distributed and used every day amongst several segments in the constructions industry; to name/mention a few: OEM (original equipment manufacturers), cooling and refrigeration processes, automotive and transportation facilities and for after sales market (maintenance contractors) mainly. In the challenging times of COVID-19 era, a lot of demand & supply and logistics challenges were faced, to which we have observed as opportunities that enabled us to be differentiated from our competition and to gain more ground of/in the market and our presence in the BIG 5 2021 was the best way to broadcast it.
Participating to Big 5 2021, we were able to meet customer/clients/leads face to face and maintain and develop with them our business relationship. Our manufacturing presence across continents is a very strong base to establish successful business, that helped our attendance of our booth at the BIG 5 2021, during which we provided technical assistance with our full range of refrigeration gases and innovative solutions/retrofits.
Jan-Emmanuel, Sales Director EMEA added: "Our participation to the Big 5 was key as our Forane® brand in the Middle East is strong, thanks to more than 15 years of hard work to get recognition from the users. During the pandemic, we were not able to meet our customers, so it was important for us to reinforce our intimacy with local and key players. The coming years will be full of challenges and the Arkema team is looking forward to expand in this area.'
Home
>>
Events & Exhibitions Section