Home
>>
Healthcare & Medicine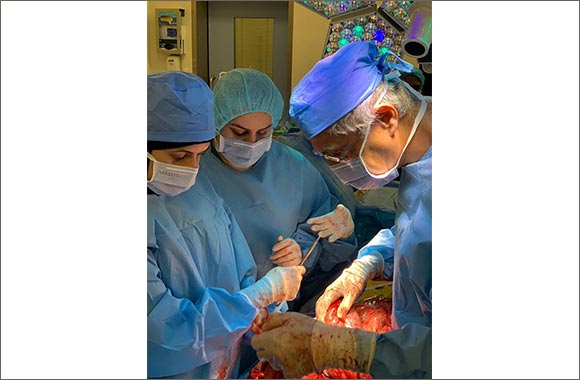 Corniche Hospital Successfully Removes a Giant Mass From a Woman's Uterus
- The benign mass is the largest single fibroid extracted in the UAE
- Expert gynecology consultants at Corniche Hospital, the longest standing maternity and newborn hospital, performed the complex procedure to remove the giant fibroid
Abu Dhabi, 27 January 2021:
Expert gynecology consultants at Corniche Hospital, a SEHA-affiliated facility, successfully removed a giant fibroid from a woman's uterus, weighing 10.7 kilograms. The benign mass was detected during a medical examination at the Women's Health Center that belongs to Corniche Hospital.
The 32-year-old Emirati woman who had the fibroid removed, experienced symptoms such as delayed and irregular menstruation cycles, pronounced abdominal protrusion, and difficulty in both breathing and mobility, for over four years.
The patient reported that she had initially consulted a clinic, where the doctors recommended a treatment involving a hysterectomy, which is the removal of the uterus. However, she decided to get a second opinion and subsequently booked an appointment at the Women's Health Center that belongs to Corniche Hospital for a consultation with Dr. Fatma Al Hajeri, Consultant Obstetrician and Gynecologist. Dr. Al Hajeri reviewed the case and explained to her that she would need to undergo a procedure for the removal of the fibroid only.
Last year, a similar surgery was performed by the hospital's gynecology consultants involving the removal of 94 fibroids of varying sizes from a patient's uterus. The fibroids led to issues with conception, and the surgery was part of the patient's pregnancy management plan.
Commenting on the successful milestone, Linda Clark, Chief Executive Officer, Corniche Hospital, said: "Corniche Hospital has achieved in November a new accreditation as a Center of Excellence in Minimally Invasive Gynecology by the American Surgical Review Corporation (SRC) which accredits the top hospitals, surgeons and health professionals worldwide that meet their proven standards. This type of surgery uses less invasive techniques to surgically treat a wide range of gynecologic conditions. It is associated with no or smaller incisions, less pain, shorter hospital stay and fewer complications.
"This accreditation means that Corniche Hospital has met nationally and internationally recognized standards and distinguishes our hospital from many other surgical facilities by providing the highest quality of care to patients. This seal reinforces Corniche Hospital's commitment to excellence and to serving the women of Abu Dhabi."
Uterine fibroids are benign tumors found in the uterus, which usually appear during a woman's childbearing years. They range in size from small, microscopic lumps to giant lumps that can deform and enlarge the uterus. Furthermore, fibroids can appear in singles or multiples – and in severe cases, fibroids may expand and grow out of the uterus, reaching the rib cage and exerting pressure on the neighboring organs.
Many women affected by uterine fibroids do not exhibit any symptoms, and the most common symptoms include heavy menstrual bleeding, menstrual periods lasting longer than a week, pelvic pressure or pain, frequent urination, difficulty in emptying the bladder, and constipation.
Uterine fibroids are neither cancerous nor life-threatening. Most women do not exhibit any symptoms but may experience some form of discomfort. In addition, fibroids can lead to complications or adverse conditions such as hemoglobin deficiency – anemia, which causes fatigue due to heavy blood loss.
Depending on their size and location in the uterus, fibroids can impact the ability to conceive. They can also increase the risk of complications during pregnancy such as restriction of fetal growth and induce early labor.
Dr. Fatma Al Hajeri, Consultant Obstetrician and Gynecologist at Corniche Hospital, advises members of the community, saying: "We urge women to seek immediate medical attention and consult their doctor, if they experience symptoms such as persistent pelvic pain, heavy or prolonged or painful periods, spotting or bleeding between menstrual periods, difficulty emptying the bladder, or unexplained anemia". In-line with the Cervical Health Awareness month, she reinforces that it is also essential for women between the ages of 21 to 65, to get screened for cervical cancer on a routine basis. "Cervical cells can mutate into cancerous cells within three to seven years. So, there is ample time available to detect, treat and even prevent cervical cancer, through routine screening and getting vaccinated against Human Papillomavirus Virus (HPV), which is a known cause of cervical cancer."
Home
>>
Healthcare & Medicine Section