Home
>>
Automobile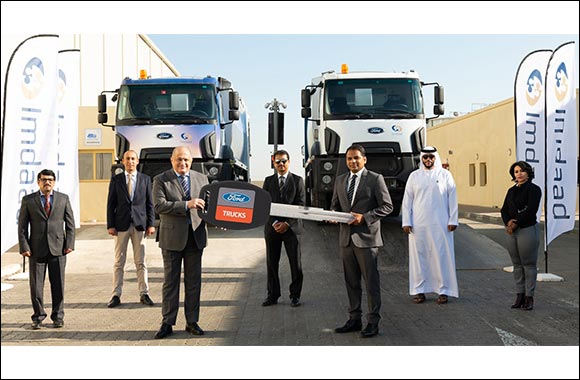 Al Tayer Motors Delivers Ford Trucks' Vehicles to Imdaad
New truck series to further bolster waste management services across UAE

Dubai, January 25, 2021 – Al Tayer Motors, the official Ford Trucks importer-dealer in the UAE, delivered Ford Trucks' vehicles to Imdaad, a Dubai-based group of companies that provides integrated, sustainable Facilities Management (FM) services that enhance operational efficiencies of physical assets, to bolster their waste management operations across the UAE.
Senior members of the management teams of Al Tayer Motors, Ford Trucks, and Imdaad were present at the Farz materials recovery facility in Dubai, during the handover of the first Ford Trucks to be inducted into the company's fleet.
"In keeping with Imdaad's commitment to creating value for our clients and promoting sustainable operations, we are in constant pursuit of new technologies, tools, and equipment. In the Ford Trucks 3542 series, we have found a fuel-efficient vehicle with a competitive cost of ownership complemented by an excellent service package provided by Al Tayer Motors. We are pleased to add these vehicles to our fleet to enhance our service delivery," said Ashly Alex, Head of Business, Environmental Solutions, Imdaad.
The Ford Trucks series offer an economical advantage with reduced maintenance costs. Service periods extended up to 40,000 km/ 800 hours will allow customers to have the most competitive maintenance advantage across many industry sectors.
Ford Trucks' vehicles offer quality & durability. Designed for the most demanding environments, with best-in-class sequence and efficiency, an important feature in the new Ford Series is the Automated Transmission option. With Off-road, Rocking and Economy modes, the Automated Transmission option assists drivers in keeping their vehicle sure-footed on virtually any terrain.
Home
>>
Automobile Section