Home
>>
Technology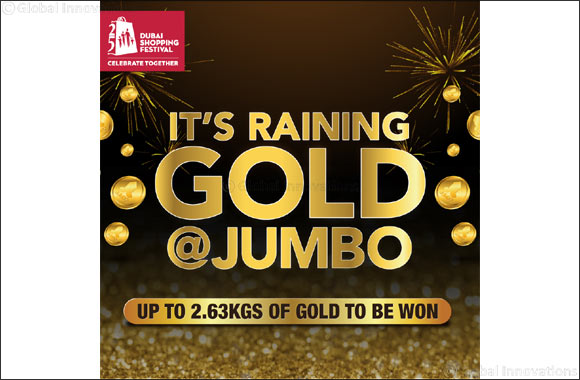 It's Raining Gold @Jumbo at the 25th edition of Dubai Shopping Festival
Jumbo Electronics is one of DSF's founding sponsors
Customers to receive premium experiences, discounts and cashback rewards from eWallet, Rehlat, Bharat Thakur Yoga and Store 2 Door
Dubai, UAE; 26 December 2019: Jumbo Electronics, the leading OmniChannel retailer in the region, has announced a range of competitive promotions, and is partnering with leading brands for special discounts on premium experiences and cashback rewards during the 25th anniversary of the Dubai Shopping Festival (DSF) that will run from 26th December 2019 until 1st February 2020.
This year, Jumbo has unveiled a fantastic promotion 'It's Raining Gold @ Jumbo', to give away a 10 gram gold coin to one lucky winner every day for 38 days. Jumbo is also rewarding five lucky winner with 250 grams of gold each, and this promotion will run for a total of five weeks. The grand prize winner will receive 1 kg of gold at the end of DSF. In addition, Jumbo is offering value-added benefits such as saving extra cash through direct discounts or special services from eWallet, Rehlat, Bharat Thakur Yoga, and Store 2 Door.
"Jumbo Group has been one of the founding sponsors and strategic partner of DSF since its inception and we are proud to be associated with the brand and continue our partnership with the region's leading retail festival. For 25 years, the Dubai Government has successfully built DSF into an iconic global event that shoppers look forward to. Every year, we are committed to providing our loyal customers and first time buyers with the best promotions and exciting retail and entertainment offerings. We are expecting a high volume of sales, similar to what we witnessed during the previous edition of DSF," said Pankaj Kumar, Head of OmniChannel Retail, Jumbo Electronics.
"Our annual gold promotion is among the key offers that customers look forward to during DSF. Gold is an attractive category for shoppers since it has both monetary and emotional value. This edition, we are coming back with more gold to reward Jumbo customers along with premium experiences from our partners and plenty of bundled offers to choose from every time they buy at our outlets. Tourists can buy products and enjoy our tax-free shopping option," he added.
Each year, Jumbo's DSF offers are some of the most awaited deals and an indicator of consumer buying trends for the rest of the year. Among the products that will continue to lead the market are smartphones, noise cancellation headphones, truly wireless earbuds, digital cameras, laptops and TVs. We are also expecting increased sales of drones, soundbars and gaming monitors, which will continue to gain popularity in 2020.
During DSF, customers can avail a curated range of Smart Home products and solutions along with installation and consultation services offered by trained and certified crew from Jumbo Unwired.
Jumbo Electronics has partnered with leading brands to offer customers fantastic offers. These range from cashback rewards, promotions on travel and hotels, fitness vouchers and the option to get larger items delivered anywhere in the world.
Jumbo's DSF partner offers at a glance:
eWallet:
• Cashback Campaign funding by e-wallet with 30% cashback up to AED 300, and subject to minimum purchase of AED 500 for debit card holders
Rehlat:
• Gift vouchers with 20% off on flights up to AED 100; and 20% off on hotels up to AED 100
Bharat Thakur Artistic Yoga:
• 1 Week Free Sessions for customers who shop at Jumbo for AED 1,000 and above. A 10% discount on sessions will be offered to customers after completing the one-week free sessions.
Store 2 Door:
• Tourists and local customers buying larger item such as large-size TVs can avail of this facility to deliver these products anywhere across the world with a truly hands-free shopping experience including insurance, packing and storage services.
During the five-week festival, Jumbo is holding weekly surprises in store and exciting contests on its social media pages. Customers can stay up-to-date on the latest deals, promotions and competitions by following @JumboWorld on Facebook and Instagram to win some great prizes this DSF.
Home
>>
Technology Section