Home
>>
Banking & Investments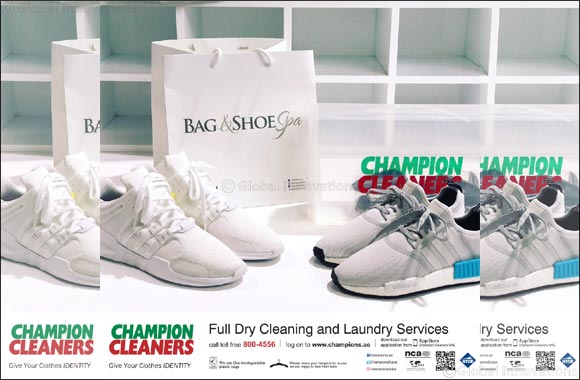 Train like a Champ with Champion Cleaners
**If your gym shoes have taken a pounding and your Lycra needs a break send in to the team of experts**
Dubai, United Arab Emirates - October 20, 2019: Did you know that the cleaning experts at Champion Cleaners will handle practically anything you can throw at them and they do love a challenge! As the new season starts and you begin getting back into your fitness post-summer holidays, making those regular trips to the gym and trying out the hottest (literally if you are a bikram yoga fan) exercise class in town, you will notice an abundance of sweaty kit hitting the laundry basket. Save your energy for hotter pursuits and hand it all over to the champions - they will even clean your beloved training shoes.

Most of today's exercise gear is made using the latest in fabric technology and you invest in the promise of more comfortable clothing when you train. Treat your gear with the same care and attention you do for the rest of your wardrobe. Ranging from hot washes with eco-friendly green earth technology to a delicately cool soft wash, your garments will feel refreshed and revitalised so you can be sure you are getting maximum benefit from your gear. The Bag & Shoe Spa is a unique offering from Champion Cleaners, for cleaning, refurbishing and sanitising of your cloth and leather goods, perfect for your street wise sneakers, keeping them looking fresh even in the face of their next marathon.

To make your dry cleaning even easier, Champion Cleaners also offer a mobile ordering service application that can be downloaded for free from the App store and play store. It will allow full accessibility regarding the status of dry-cleaning and their professional services can be secured with a click of a button. The new application includes a price list, visual instructions along with weekly and monthly deals to ensure customers are always aware of the latest promotions.

With 33 locations across Dubai and Abu Dhabi, customers can also schedule a convenient pick-up and delivery or can download the new Champion Cleaners UAE app on all app-stores and play stores now.
Home
>>
Banking & Investments Section