Home
>>
Technology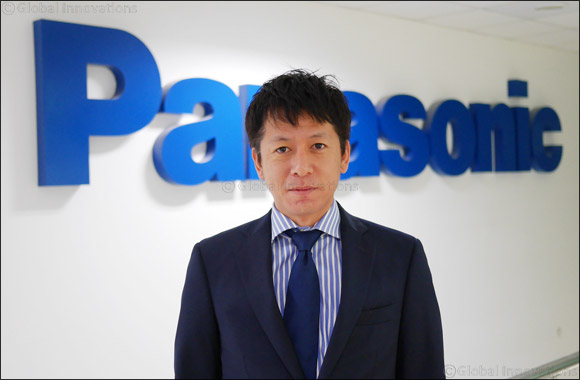 Panasonic showcases its strength in Electrical Solutions at Middle East Electricity 2016
Pioneering products and solutions to bring a paradigm shift
Dubai, UAE, February 29, 2016: Panasonic Marketing Middle East & Africa, a global leader in technology, will be demonstrating its energy solutions which feature the latest in electrical product segment at Middle East Electricity (MEE) 2016, the region's largest power exhibition.
MEE 2016 will be held at the Dubai International and Convention Centre from 1 to 3 March 2016, and Panasonic's booth is located in Hall no. 8, stand 8G10.
Panasonic will highlight its innovative systems from its Eco Solutions division – under the Homes & Living category - ranging from Energy Creation, Indoor Air Quality to Lighting Solutions.
Tatsuya Kumazawa, Director and Divisional Head, Eco Solutions Division, Panasonic Marketing Middle East & Africa FZE (PMMAF) commented, "Energy and Power is undergoing an unprecedented growth with huge investments being pumped into the sector over the coming years thereby offering the industry players a challenging yet competitive business environment. Smart cities are the future and this concept is inevitable in this region, with the local government playing an active role to make it part of the basic infrastructure."
"With its expansive range of products, Panasonic has been a pioneer in innovative energy solutions and has been a trusted brand for decades. MEE is the perfect platform for us to highlight the latest sustainable living concepts which form the core of our businesses. We are committed to support the B2B and B2G sectors with our innovative, energy saving and environment friendly solutions," he further added.
Main Exhibits at the Panasonic Booth
Energy Creation
Panasonic continues to pursue technology development of its trademark HIT solar cells aiming to realize higher efficiency and lower costs, the ultimate goal being mass production.
Panasonic HIT™ Solar Cell has achieved world's highest energy conversion efficiency of 25.6%, and has the ability to generate more power per square meter than conventional panels. It has a unique structure that allows it to maintain high efficiency and performance even in hot temperatures – ideal for the Middle East.
Today majority of population the MENA region is still dependent on water tanks as the best resource to tap into for their daily requirements. As governments all over the region continue planning for water use, with one prime objective which is sustainable development, confirming that methods do exist to conserve water. One involves management of demands and others like capturing rain water more effectively, improving water distribution systems and reusing water. Recognizing MEEE as the potential platform to address its discerning customers, Panasonic will be introducing its water pumps as a new category for the Middle East & Africa market.
Wiring Devices
Launched recently, the SIMPLUS BS-Type Switches are uniquely designed for both, residential and commercial use. They not only resist color fading but are also scratch resistant and flame retardant. Simple and smoothly structured SIMPLUS BS-Type switches reflect the Japanese reliability and developed with highest standards of quality.
Flatima, Refina and Harmony series of switches will also be showcased at the stand to meet the needs of various customers. Panasonic is a world leading manufacturer of electric switches and sockets, featuring high reliability, easy installation and compliance with international and local safety standards.
Lighting Solutions
The consumption of electricity in MENA is forecasted to grow at a faster pace over the next decade. This along with rapid infrastructure growth augurs well for the lighting business in the region.
Continuing its ongoing efforts to create smart living spaces, Panasonic has a range of energy-efficient lighting to address the challenge of energy-conservation.
Panasonic has an expansive line-up of 219 models of LED luminaries designed to suit the needs of the residential, commercial, retail & hospitality segments. This includes down lights, base lights & spot lights.
Indoor Air Quality Solutions
As a customer centric company, Panasonic not only reaches out to customers with best product and solutions but also constantly engages in awareness programs to educate people on the importance of Indoor Air Quality (IAQ), while emphasizing on 24 Hours ventilation solutions, which are essential for a healthy living.
The latest solutions that Panasonic is showcasing at the exhibition, under the Indoor Air Quality category, will be the Ceiling Mount Ventilation Fan with DC Motor, the Energy Recovery Ventilation (ERV) Fan and Remote Control Ceiling Fan for IAQ solutions to enhance comfortable living in today's air tight housing environment.
Energy Recovery Ventilator (ERV)
To maintain a healthy atmosphere and improve indoor air quality with power saving energy, Panasonic has newly launched its slim-designed ERV to provide fresh air, inside living spaces, with minimum energy loss. This product is specially altered for high perform even in tough weather conditions of Middle East. Besides being a product with unique features, ERV ventilates homes with minimal energy loss and reduces power consumption upto 61%.
Ceiling Mount Ventilation Fan (DC Motor)
Panasonic's remarkable Ceiling Mount Ventilation Fan - FV-24JR2 & FV-24JA2, comes with DC brushless motor, providing unparalleled energy efficiency with its magnetic rotor and print circuit board. The magnetic rotor prevents energy loss, while the print circuit board operates with a unique IC chip, which intelligently monitors and detects the rounds-per-minute (RPM) of the fan blade.
Premium Ceiling Fan with remote control
Panasonic offers the premium Ceiling Fan with distinctive features like LED lighting and remote control in order to provide the users with energy efficiency and quality air movement solutions.
In its quest to address the issue of poor indoor air quality in the region, Panasonic continues to provide answers for better ventilation. The F-VXL95M, F-VXL40M, F-VK655M, F-PXL45M air purifiers made a regional debut a month back and are already popular with consumers. HEPA Composite filter, Deodorizing functions, Dust Catcher, 3D Circulation Airflow, Nanoe Purification along with indicators and sensors are some of the best in class features all of them come with.
To further enhance the indoor air quality, Panasonic has developed cutting-edge technology of producing the nano-sized electrostatic atomized water particles called "Nanoe". The technology makes Panasonic Air Purifiers capable of inhibiting house dusts and air borne pollutants as well as diminishing bad smell. Panasonic's Nanoe Air Purifiers offer the best indoor air quality improving solutions providing consumers with healthy and comfortable living spaces.
Experience the never seen before Electrical Solutions at Panasonic's MEE 2016 booth:
Date: 1-3rd March 2016
Venue: Dubai World Trade Centre
Stand details: Hall no. 8, stand no. 8G10
Home
>>
Technology Section