Home
>>
Lifestyle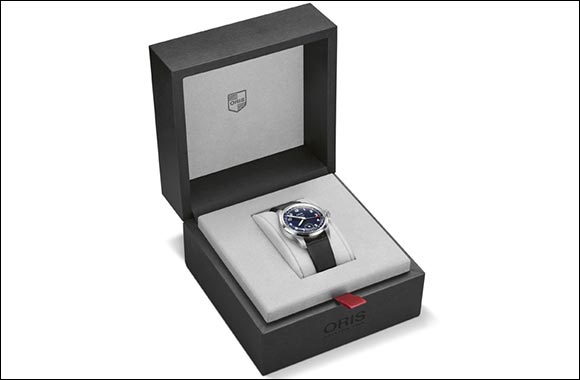 Big Crown Pointer Date Calibre 403
November 27, 2021: The Big Crown Pointer Date has been Oris's signature design since it was introduced in 1938. This year, a new chapter begins with a model powered by the in-house Oris Calibre 403 automatic.
Higher point
Introducing the Big Crown Pointer Date Calibre 403. A new chapter in the story of an icon begins
Introduced in 1938, the Big Crown Pointer Date has been in constant production for more than 80 years. The original had two distinctive features – an oversized crown so the watch could be operated by gloved airmen, and a central hand that pointed to a date scale around the edge of the dial. The form has become Oris's signature design, a Swiss watchmaking icon, and a byword for beautiful, functional, timeless watchmaking.
Now, the Big Crown Pointer Date is getting one of the most significant upgrades in its illustrious history. The updated 38 mm model carries Calibre 403, one of the Oris Calibre 400 Series of high-performance in house engineered automatics. Calibre 403 first appeared in the 250-piece Hölstein Edition 2021, but this is the first time it features in a collection piece. It provides the watch with small seconds and pointer date complications.
As with every movement in the Calibre 400 Series, Calibre 403 has elevated levels of anti-magnetism, a five-day power reserve and a 10-year warranty. It's also accurate to -3/+5 seconds a day – which would comfortably pass chronometer testing – and has 10-year recommended service intervals. "People who love Oris have been asking for this," says Oris Co-CEO Rolf Studer. "It's a privilege as Oris guardians to begin this new chapter in the Big Crown story."
"The Big Crown Pointer Date is Oris's signature design and a byword for beautiful, functional watchmaking"
The new standard
All Oris watches powered by the new Calibre 400 Series of automatics make three real-world performance promises
Anti-magnetic
Calibre 400 Series movements have more than 30 anti-magnetic parts and exceed the norms of the ISO 764 enhanced anti-magnetic standard.
Five-day power reserve
For many reasons, a mechanical watch may not be worn every day. Calibre
400 Series movements have a five-day power reserve, so they're ready for longer.
10-year warranty
Reliability comes as standard with any Oris watch carrying a Calibre 400 Series movement. Owners who register with MyOris activate a 10-year guarantee.
Natural selection
The Oris Movement Creation Programme continues, inspired by the needs of today's world citizen, engineered in our home of Hölstein
The story of Oris the watch and movement creator began in 1904. That was when the company was established, here in the beautiful village of Hölstein in the Waldenburg Valley. Oris is in north-west Switzerland, some way from the cradle of Swiss watchmaking. The choice of location was deliberate – and it's always helped us go our own way.
Our founders were watchmakers, but also pioneers. Their vision was to marry handcraftsmanship and industrialised watchmaking to produce high-quality watches for the citoyen of the day. Over the next 75 years, Oris would create almost 300 mechanical movements, pushing boundaries while never losing sight of the founders' philosophy
When the hand-wound Calibre 110 was introduced in 2014, it kickstarted the new Oris Movement Creation Programme. Since then, there have been eight further unique calibres, all engineered in-house.
Our most recent belong to the Calibre 400 Series. These automatics have elevated levels of anti-magnetism, five-day power reserves and 10-year warranties. They have set the new standard for Swiss Made automatics.
Those game-changing specifications were determined and delivered by our in-house teams of engineers and watchmakers, who spent five years creating the Calibre 400 Series, always with the founders' vision as their template.
The result is that every movement in the Calibre 400 Series is designed to suit the lifestyles of today's world citizens. Calibre 400 is the base automatic with three hands and a date; Calibre 401 adds a small seconds; and Calibre 403 revives Oris's signature combination of complications, a small seconds and a pointer date.
"The question of how our founders would create watches today guides us," says Rolf Studer. "Like them, we want Oris watches to be high-performing, industrially produced and beautiful, but above all, to make sense. We call it the luxury of common sense. Our new Big Crown Pointer Date Calibre 403 is the epitome of this philosophy."
"Our engineers and watchmakers spent five years creating the Calibre 400 Series of automatics"
"We're fortunate to have this design. People know and love it. Updating it is a big challenge"
Lukas Bühlmann discusses the process of reworking an 80-year-old design icon
Lukas, introduce yourself...
Hi, I'm Lukas, I'm 35 years old, born and raised in Switzerland, and I'm Oris's Senior Product Design Engineer. I've been working at Oris for six years, designing watches and packaging. It's been quite a ride!
How many people are there in the team?
We're around 10 people, depending on the project. That includes designers, material researchers and movement developers. We also bring in marketing and regional directors, because it's so important to get a global perspective when we're concepting watches.
Having lots of voices involved must make the process longer and harder?
Sure, but who said it should be easy? And better that than to go off on a tangent and create something esoteric that's the product of one person's imagination and that no one else likes. That's not what we are as a company and it's not what our watches should be. We're making watches for today's world citizens, so we need to be conscious of lots of viewpoints. Consensus is beautiful.
Where do you get your inspiration from?
Pretty much everything: history, products, architecture, new materials and the whole issue of sustainability. And of course, Oris and its values and purpose. When you're designing and creating new products, it's important to have a wide range of interests and influences so that you understand how the world is thinking when you come to design a product that's going to be used every day by people everywhere.
In detail: Calibre 400 Series
Power for five days
Recognising people may not wear the same watch every day, all Calibre 400 Series movements have five-day, or 120-hour, power reserves. They deliver this longer period of use via twin barrels, both of which house an extended mainspring, each long enough to store two-and-a-half days of power
Anti-magnetic
Calibre 400 Series movements have more than 30 non-ferrous and antimagnetic components, including a silicon escape wheel and a silicon anchor. In testing, the impact of magnetic fields on accuracy was found to have been reduced by more than 90 per cent compared to standard mechanical movements.
Better reliability
So we could offer 10-year warranties and longer service intervals on Calibre 400 Series watches, Oris re-engineered the way the movement's rotor spins, replacing ball bearings with a low friction slide-bearing system. The uni-directional winding system is also simpler and more reliable.
Watch design carries so many tensions – how do you prioritise them?
That's true, at least in the sense that we're working with a few square centimetres and that our product has to be beautiful, ergonomic and reliable. But when it comes to detail, we don't prioritise one part or function over another. It's the opposite – everything is prioritised. In the end, all the details have to work together and become one.
To get to that point, are there rules that serve as a framework for your designs?
It depends what we mean by rules. There are no rigid design rules, because we make many different types of watches. We don't design diver's watches and pilot's watches in the same way, if we're thinking literally. But what all our watches have in common is that they have to make sense and the quality has to be right. The object has to be coherent.
How long is the process?
It depends. Sometimes it's six months. But if we're working on a new family or integrating a new movement, it can take two years. It's hard to predict – we have to be patient.
How do you know a design is 'done'?
Honestly? From a designer's point of view, a product may never be finished. You never want to be satisfied, but instead always asking questions and being curious. That way you reach a point where the vision becomes visible in the product. We're fortunate that in being independent we have a strong identity and a clear purpose, so we rarely have to compromise. Basically, a design is finished when it makes us smile. At that point, we're confident it'll make our customers smile, too.
The Big Crown has been in the Oris collection for more than 80 years. What's it like working on an icon?
We're very fortunate to have this design. People know it and love it. But of course, updating it is a big challenge. You have to protect the codes that define it, while expressing them in a modern context. Here, that means starting with the oversized crown and the basic case shape, and then adapting the other elements as you go along.
What's new about this Calibre 403 model?
The most striking change is in the bezel and case back, where we've removed the fluting so it now looks more like the original Big Crown of 1938. To match the bezel, the hands are now also straight. For the numerals, we invented a new, slightly more modern font. And we've reduced the size of the model to 38mm. It looks more timeless now. Integrating Calibre 403 also meant introducing a small seconds at 6 o'clock.
And finally, what does this watch say about Oris and Oris watch design?
This is a milestone product for Oris because it demonstrates how our design heritage and innovative Movement Creation Programme can come together in a contemporary watch design. There's huge potential in it.
Big Crown Pointer Date Calibre 403
An icon reborn. The Big Crown Pointer Date has been in constant production since 1938. For the first time, it's now equipped with Oris Calibre 403, an in-house automatic with elevated levels of anti-magnetism, a five-day power reserve and a 10-year warranty
In detail
Case Multi-piece stainless steel case
Size 38.00 mm (1.496 inches)
Dial Blue
Luminous material Indices and numbers printed with Super-LumiNova®, hands filled with Super-LumiNova®
Top glass Sapphire, domed on both sides, anti-reflective coating inside
Case back Stainless steel, screwed, see-through sapphire glass
Operating devices Stainless steel screw-in security crown
Strap Black leather with quick strap change system
Water resistance 5 bar
Movement
Number Oris Calibre 403
Functions Centre hands for hours, minutes and date, small seconds at 6 o'clock, fine timing device and stop-second
Accuracy -3/+5 seconds a day (within COSC tolerances)
Extra features Highly anti-magnetic
Winding Automatic
Power reserve 120 hours
Warranty Extended to 10 years with MyOris sign-up. Applies to watch and movement. 10-year recommended service intervals, five-year recommended water-resistance check
Home
>>
Lifestyle Section