Home
>>
Government, Legal & Humanity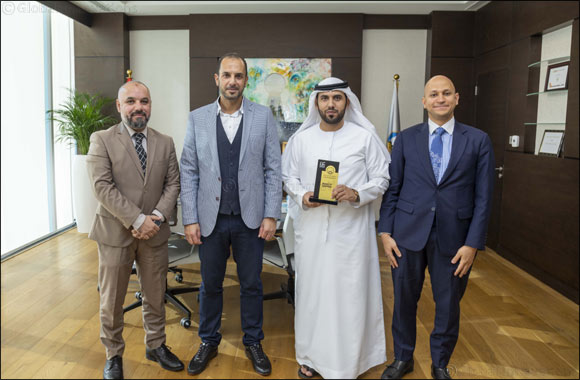 This Sophisticated Scanner is Used in all UAE ports
Ajman-UAE: December 08, 2019: "It is the first gadget in the world to scan and authenticate official documents and records in almost no time."
This is how 31-year-old Emirati national Amer Al Jabri, a brilliant alumnus of Ajman University (AU), described his '7E Reader' which "is meant to enhance the safety and security in the country."
Al Jabri, who was well received and honoured by AU Chancellor, Dr Karim Seghir, said he could not imagine that his device would be adopted and used in all borders and airports of the country.
"This innovative scanner can add to the security of the entire world by detecting and cracking down terrorism and organized crimes."
Al Jabri, a Branch Manager of Analyzing and Developing Business Section in the UAE Ministry of Interior since 2015, said his gadget can be further developed to be used globally in all the fields for more safe and secure measures.
Al Jabri, who ranked first in the UAE Federal Authority for Identity and Citizenship security contest, said his 7E Reader features an unlimited database of over 1,763 original documents and 196 electronic chips for more than 200 countries.
"It reads and checks documents, passports (manual and computer-read), ID cards, barcodes, visas, and air tickets in seven different readings."
"The device, equipped with IR radiation and ultraviolet rays and many more technologies, can also read electronic chips."

The device compares the readings with the original documents to curb terrorism and forgery, Al Jabri, who earned the top place in the Prince Naif Award for Arab Security (Security Invention Class), explained.
"When a forged passport is placed on the 7E Reader, it immediately identifies and signals where and how it has been altered by showing the "Interference Occurred" on the screen."
The details of the forgery, spanning any change in data, expiry date, barcode, stamp, or photo, are clearly displayed, Al Jabri, who won the UAE Minister of Interior Excellence Award, said.
"My 7E Reader can detect any forgery even if the document examined is 99 per cent identical to the origin."
Some may think the 7E Reader is similar to the scanners used in the airports, but, it is completely different as it's a reader and a detector in one and shows the results within seconds. "It also costs about 40 per cent less than the devices in use worldwide."
Al Jabri, who won the 'Security Thought Award' for 2018, USA, holds a diploma in Project Management and is currently doing a master's degree at the American University in the Emirates.
Home
>>
Government, Legal & Humanity Section