ON THE PROWL
INNOVATIVE NEW PRODUCTS THAT LAST FOR AS LONG AS YOU DO
100% VEGETARIAN
NO GLUTEN, NO CARMINE, NO PETROLATUM, & NO MINERAL OIL
EYE QUADS
These limited-edition festive, party palettes are made to create party selfie looks. Layer deep, fallen-from-the-tree plums, build soft, shimmering golden tones or go wild for metallic blues and greys.
CONDITIONING COMMUNITY TRADE
SESAME & BABASSU OILS
100% VEGAN
ENRICHED WITH HIGH
PURITY PIGMENTS
SUITABLE FOR SENSITIVE EYES
EYE COLOUR STICKS
New HD Eye Colour Sticks last all night and make your eyes POP! Crafted with creamy, sparkling pigments to enhance your own individual eye colour.
Blue and brown eyes pop in wild-thing Cairo Granite, while green and blue eyes dress to impress in magnetic Siberian Quartz. Also available in high-impact Nevada Gold for blue and hazel eyes and alluring Cyprus Bronze for brown and hazel eyes.
HIGH DEFINITION SPARKLE COMMUNITY TRADE BABASSU OIL & COMMUNITY TRADE BEESWAX LONG-LASTING, CREAMY FORMULA
WHICH STAYS PUT COMES WITH A BUILT IN SHARPENER, PERFECT FOR TOP-UPS ON THE GO SUITABLE FOR SENSITIVE EYES
MATTE LIP LIQUID
Just. Wow. Nailing the liquid lipstick trend, these creamy lipsticks dry to a velvety matte finish, ensuring your lips are ready for those sassy party photo booth shots.
Available in twelve phenomenal shades, from nearly nudes to plush plums.
INTENSELY DRENCHED COLOUR ON-TREND MATTE FINISH LONG-LASTING & NON-DRYING
ENRICHED WITH HIGH PURITY PIGMENTS
COLOUR CRUSH™ MATTE LIPSTICKS
We're wildly excited to add seven must-have matte shades to our popular Colour Crush™ lipstick collection.
These super-chic lipsticks have a highly pigmented, incredibly matte finish, that make lips look irresistibly full, yet feel incredibly comfortable. Shades range from soft Jaipur Pink and Osaka Blush tones to just-bitten Porto Grape and classic New Orleans Scarlet.
CRAMMED WITH COMMUNITY TRADE BEESWAX, BRAZIL NUT, ARGAN OIL & ORGANIC COCONUT OIL. ENRICHED WITH HIGH PURITY PIGMENTS
JUNGLE BELL ROCKS
INTRODUCING THREE LIMITED-EDITION MAKE-UP LOOKS THAT ENSURE YOUR BEAUTY GAME IS TOTALLY WILD
To ensure the party season kicks off with a roar, we're introducing three glamorous limited-edition make-up collections: Rock the Night, Go for Gold, and A True Romance.
Each carefully crafted look includes a limited-edition eyeshadow quad and nail polish, plus new on-trend Matte Lip Liquid and shimmering Eye Colour Sticks.
Rock the night
Silky, gleaming blacks and metallic hues of navy and silver contrast with kiss me red matte lips and matching nails in this fierce-gal-about-town look.
New limited-edition Rock the Night Eyeshadow Quad, Cairo Granite Eye Colour Stick, Sydney Amaryllis Matte Lip Liquid, limited-edition Red Bellious Nail Polish.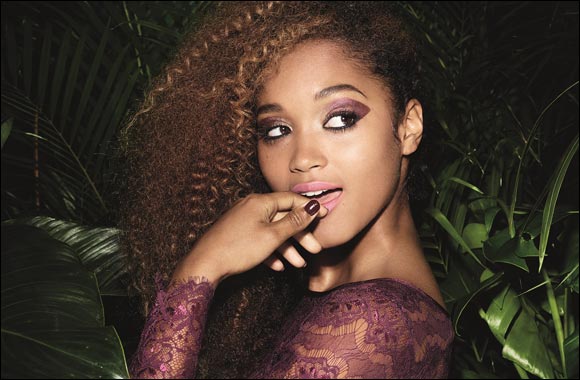 Go for gold
Warm gold tones with lashings of gilded shimmer are set off against strong brows and a matte plum pout in this modern twist on a cocktail hour classic.
Add glittering gold nail accents for the ultimate wild-girl sparkle.
New limited-edition Go for Gold Eyeshadow Quad, limited-edition Gold Foils Nail Polish, Nevada Gold Eye Colour Stick, Mauritius Dahlia Matte Lip Liquid.
A true romance
Sultry plum and glimmering amethyst eyes meet sugar-sweet matte lips and cheeks, while vampish plum nails unleash a wild, untamed look.
New limited-edition A True Romance Eyeshadow Quad, SiberianQuartz Eye Colour Stick, Taipei Orchid Matte Lip Liquid, Plum Addict limited-edition Nail Polish.