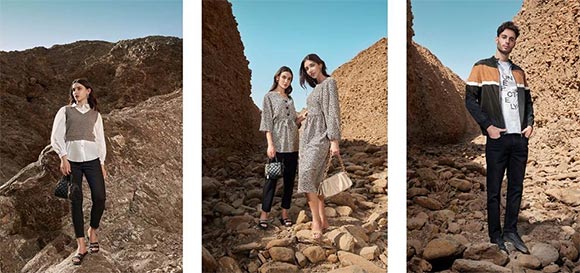 July 01, 2021 - Dubai, UAE: Eid Al Adha is right around the corner and there is no time for long stares into the depths of your closet. If you are still deciding what to wear, go for earthy tones that offer a sense of grounding during unpredictable times, whilst striking the perfect balance between cool and sophisticated.
MAX's The Modernist collection offers a contemporary take on a timeless aesthetic for the modern generation, with a versatile range of dresses, tailored tops and trousers. These silhouettes are brought to life through a unique color palette of brown, black and ivory, and prints are given a new take through cinched waists with the maxi and midi dress being a key shape for the season.
MAX experts have rounded up some of the best pieces that fit your minimalist, earth-tone wardrobe to make styling an absolute breeze:
1. Mineral hues like terracotta and honey are a seriously stylish outerwear choice. Just combine it with on-point palazzo pants and a printed top in ivory shades for a fresh weekend 'fit, before finishing with embellished slip-on sandals to inject a bit of unexpected pizzazz. Who says brown can't be fun?
2. Cream beige is the quintessential minimalist fashion color and a staple of the earth tone fashion trend. Choose a classy printed midi dress for a sleek look, that you can dress up or down.
3. Black is super wearable and won't clash with anything you own. A striped dress with a belt is effortless in style, very appealing yet wearable, exactly what the modern woman wants.
4. Resembling rocky mountain ranges, grey is an earth tone fashion favorite with a calming energy. It has a subtle vibrance and pops well when paired with white. Think white shirt, a grey vest and black trousers.
5. Brown in casual day wear gives off a relaxed, down-to-earth vibe and is unexpected (which makes it look fashion-forward). You can use brown as a base color in a top and build it up with black trousers and slip-on mules for a simple, bohemian look.
6. Ivory shades have a comforting look, so we love it for relaxed pieces like matching tops and trousers. This neutral earth tone fashion shade can also work well in a professional setting as it comes across as sophisticated.
7. On the darker end of the earth tone fashion palette, burnt orange is a more dramatic shade that packs a punch. It is a good way to include a hint of color into men's outfits – whether it's featured in a jacket or in trousers paired with t-shirts in neutral whites.
No matter the time of year, staple items in earth tones never go out of style. You won't need to add too many accessories or patterns to these colors as they speak for themselves.
| | |
| --- | --- |
| | Previous Story : 7 for 70: T-shirt Anniversary Capsule Collection |
| | |
| --- | --- |
| Next Story : Max&Co. - Get Shirty | |