Home
>>
Technology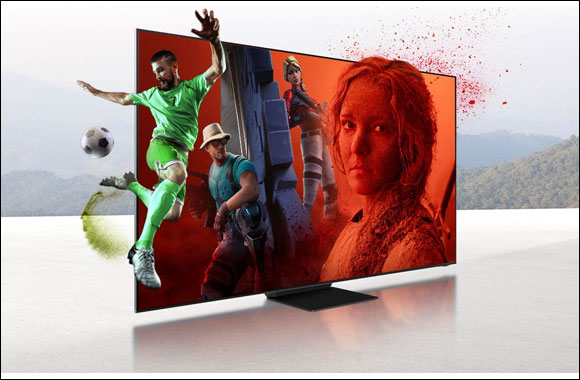 Experience the Best with the Biggest, and the Smartest Neo QLED 8K TV
Dubai, UAE – September 7, 2022 – As screens get bigger, the quality of on-screen detail becomes strikingly more important. With an ultra-large screen, stunning 8K resolution and next-level image and sound quality, Samsung Gulf Electronics' Neo QLED 8K features a range of cutting-edge personalization options to help UAE users experience the best.
Viewers today expect their TVs to deliver immersive movie experiences, incredible gaming features, and the transformative potential of illuminating their favorite content to enrich viewing pleasure," said Nikola Aksentijevic, Head of Visual Display Group, Samsung Gulf Electronics. "The 2022 Neo QLED 8K is designed to fulfill the needs of consumers and empower their lifestyles, with cutting-edge features and designs for a re-defined experience."
Turning Living Rooms Into Home Theaters
The way people consume content is becoming more and more diversified as they spend more of their leisure time in the comfort of their own homes. Even the way viewers enjoy movies is changing – increasingly, people are choosing to enjoy the latest releases via streaming or Over the Top (OTT) platforms instead of in a theatre. But this change in viewing trends doesn't mean that viewers must miss out on the immersive, cinematic experiences that movie theatres are able to provide.
The Samsung Neo QLED 8K is capable of upscaling the picture quality of a movie, even older ones, to a higher resolution thanks to its Quantum Mini LEDs, Quantum Matrix Technology and its Neo Quantum Processor, which is armed with powerful AI upscaling technologies.
With football season around the corner, there's an increased demand for screens with top-tier picture quality and next-generation features. Samsung's proprietary micro-layer technology expresses images more vividly and accurately. Micro layers inside each LED eliminate unnatural noise among thousands of LED elements – the secret behind how these TVs can express all the fine details on-screen. Quantum Matrix Technology, Samsung's proprietary local dimming technology, allows for clear contrast between dark and light areas on-screen.

The Lord of the Rings: The Rings of Power comes to life in 8K
In an exciting development, Samsung has partnered with Prime Video to offer fans the opportunity to experience exclusive 8K content from the much anticipated The Lord of the Rings: The Rings of Power series only on Samsung's cutting-edge screens.
Viewers have the opportunity to experience the epic journey in unimaginable depth and detail on Samsung Neo QLED 8K TVs as Samsung becomes the first to offer series content in 8K resolution
Immerse in Ultimate Sound
A truly cinematic viewing experience isn't complete without a sound system capable of creating truly immersive and realistic audio experiences. Given the growing number of users who enjoy watching movies at home, the need for premium sound experiences capable of delivering that¬ realistic rain downpour or airplane departure is also growing. With the Samsung HW-Q950A soundbar, viewers can enjoy a theater-like three-dimensional experience at home without the need to install any extra speakers thanks to its 11.1.4 channel speakers and Dolby Atmos technology.
Premium gaming experiences
Samsung 8K TVs support the new HDR10+ GAMING standard, delivering the immersive, ultra-responsive HDR gaming experience to gamers by allowing automated HDR calibration that provides stunning picture quality to meet game developers' demand. This translates into one of the most responsive and accurate gaming experiences available to date.

By removing the need for manual settings when games are loaded, something previously only possible with movie and television content, the game engine automatically optimizes video game content in real-time. This feature ensures details in the dark shadows and preserves the brightest highlights so that gamers can see and react to everything on the screen. It also configures the display to "true reference mode", providing better colour, also without the need for gamers to spend additional time with game settings.

Designed to improve daily lives
From gaming, to working from home, and even wellness – the Neo QLED is designed to deliver the best experiences throughout with its multitude of hyper-personalized features. From accessing work documents straight from the Neo QLED to outstanding opportunities for your senses – the NEO QLED decidedly merges wellness with work-from-home environments. Its next-generation gaming consoles demand a display that enhances both performance and picture quality—and Samsung's cutting-edge Neo QLEDs are engineered to deliver. The TV features the new and intuitive Game Bar in Game Mode, allowing players to easily adjust the screen's aspect ratio, check input lag, and connect wireless headsets, while gameplay is optimized through the Samsung AI processor.
The new Neo QLED will be available for purchase from Samsung.com, Samsung stores as well as major retailers in the UAE. Customers across the country can register now to get access to exclusive offers on e-store.
-ends-
Home
>>
Technology Section