Home
>>
Technology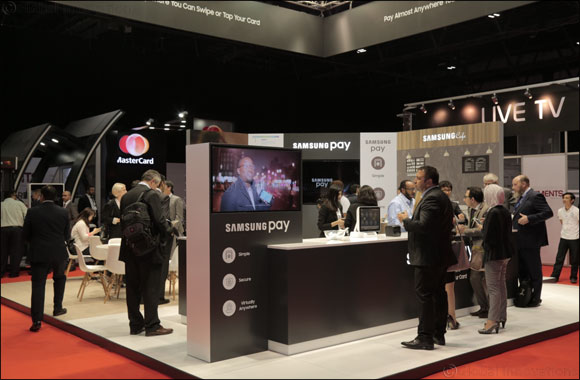 Samsung Pay: Mobile Payments Beginning to Show Consumer Behavior Changes
Over five million global users and USD 500 million transacted on Samsung Pay in the first six months
Dubai, UAE, June 2, 2016: Samsung Pay Director Victor Kim discussed early signs that mobile payment technology is beginning to transform retail transactions in the Middle East, as part of a keynote address at the 16th edition of the Cards and Payments Middle East, the region's largest smart card, payments and ID event.
Kim highlighted Samsung Pay's simple, swipe-up and tap functionality that has totaled over five million registered users and enabled more than USD 500 million in transactions in the first six months since its launch in the U.S. and South Korea. Accepted universally due to its compatibility with both Near Field Communication (NFC) and Magnetic Secure Transmission (MST) technology, Samsung Pay is built on Samsung Knox, the company's defense grade security platform, with every transaction tokenized and backed by biometric authentication.
Speaking of Samsung Pay's potential to change the way people pay and use their smartphones, Kim commented, "Reaching the five million user milestone in just six months indicates a strong adoption rate in South Korea and the U.S. Across the globe we are working on expanding our partner ecosystem to ensure maximum compatibility and universal acceptance for Samsung Pay. Our aim is to expand Samsung Pay around the world, and our customers should expect to see more value-added features in the year to come."
MST is Samsung's innovative technology that delivers secure transactions for new EMV-chip and NFC terminals, as well as traditional, magnetic strip terminals, enabling consumers to use Samsung Pay almost anywhere they can swipe or tap a card. Working with the largest point-of-sale (POS) makers, Samsung Pay is driving toward the goal of universal merchant acceptance and growing the platform to also accommodate transit passes, coupons and membership cards.
Samsung Pay is simplifying the checkout experience in an age of accelerating mobile wallet adoption. Wider acceptance is crucial for users to form habits around the services, and pay on a more consistent basis and in higher volumes. With tokenization of MST and NFC transactions, merchants receive Card Present rates with no liability shift, regardless of what type of POS terminals they use.
Home
>>
Technology Section