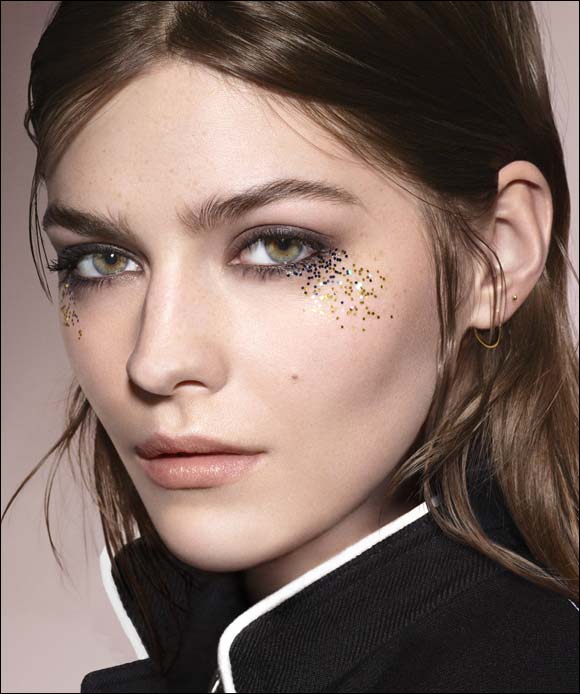 "The collection is about earthy opulence created by combining nude tones with metallic shades. I like to apply the Shimmer Dust loosely for a highly wearable finish that is achievable effortlessly.'
Burberry Make-up Artistic Consultant, Wendy Rowe
London, August 1, 2016
Burberry introduces the 'runway make-up collection', inspired by the brand's womenswear February 2016 show.
The collection features new Shimmer Dust - loose glitter for the face and body - a limited edition Runway Palette for face and eyes and limited edition shades of Nail Polish and Eye Colour.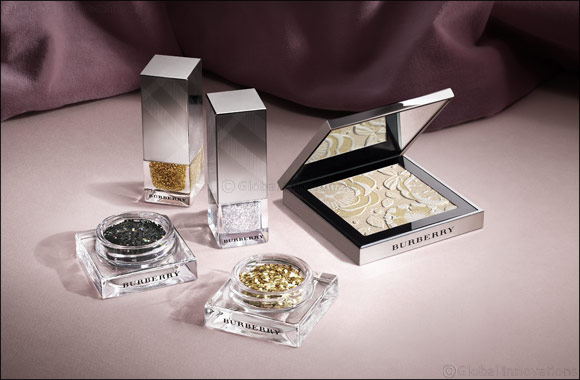 NEW SHIMMER DUST LOOSE GLITTER IN GOLD GLITTER AND BLACK GLITTER
Playful gold and holographic black glitter for the face and body
Apply by dotting the shimmer dust beneath the lower lash line, over Fresh Glow Highlighting Luminous Pen
LIMITED EDITION RUNWAY PALETTE
Inspired by floral embroidery from the womenswear show, the gold illuminating powder for face and eyes is set in an intricate design, capturing the embellished nature of the collection
Infused with micronised pearls, the silky-smooth powder can be used as a highlighter to illuminate the complexion, leaving skin with a luminous glow or to add a delicate touch of shimmer to the eyes
LIMITED EDITION EYE COLOUR HIGH-SHINE SHADOW IN METALLIC GOLD AND METALLIC SILVER
A high-shine eye shadow with sequin-like reflection
Delivers a vibrant metallic intensity with a non-chalky finish, while the creamy soft texture allows colour to glide evenly across the lids, creating a pearlescent effect
Apply a thin layer for a sheer sparkling finish, or add a second coat for a more intense look
LIMITED EDITION NAIL POLISH COLOURS IN GOLD GLITTER, SILVER GLITTER AND RUBY GLITTER
A high-shine nail polish available in three distinctive shades, infused with fine glitter flecks
Can be applied as a topcoat - adding a flash of glitter over colour - or worn alone to add impact
Features a rounded-end brush design for effortless application and high precision
For a modern result pair Ruby Glitter with Poppy black, Silver Glitter with Storm Grey and Gold Glitter with Nude Beige
The Burberry February 2016 runway make-up collection will be available from August 2016 via Burberry.com, Burberry Beauty Box, selected Burberry stores and retailers worldwide.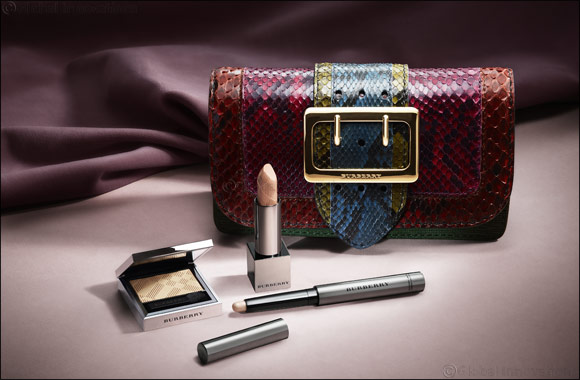 THE COLLECTION
The complete collection includes:
BURBERRY FACE
Fresh Glow Luminous Fluid Base - Nude Radiance No.01
Fresh Glow Highlighting Luminous Pen - Nude Radiance No.01
BURBERRY EYES
Runway Palette Illuminating Powder Face & Eyes - limited edition
Eye Colour High-Shine Shadow - Metallic Gold No.010 - limited edition
Eye Colour High-Shine Shadow - Metallic Silver No.012 - limited edition
Shimmer Dust Loose Glitter - Gold Glitter No.01 - new
Shimmer Dust Loose Glitter - Black Glitter No.02 - new
BURBERRY LIPS
Burberry Kisses - Nude Beige No.01
Lip Velvet - Nude Apricot No.401
Lip Velvet - Damson No.425
BURBERRY NAILS
Nail Polish - Ruby Glitter No.306 - limited edition
Nail Polish - Gold Glitter No.451 - limited edition
Nail Polish - Silver Glitter No.453 - limited edition
ABOUT BURBERRY MAKE-UP
British, effortless, runway-inspired and timeless
Burberry make-up is easy to apply and the products are often multi-use
Creating a quintessentially British look, a natural glow stands at the heart of Burberry make-up: a radiant, healthy-looking complexion, inspired by the brand's British heritage and outdoor roots
Burberry make-up includes Burberry eyes, lips, face, and nails
Burberry make-up is developed by Burberry Make-up Artistic Consultant Wendy Rowe, under the creative direction of Chief Creative and Chief Executive Officer Christopher Bailey